I have been to some great training courses in person over the years that I have been a speech therapist.  There is something really great about attending a course in person – you get totally immersed in the topic with no distractions, and you get to discuss the material with fellow attendees and with the person running the course.  Watch out another day for some of the best and most useful courses I have attended in person.
However, as an independent therapist especially, going on courses is expensive!  Not only do I have to pay for the course and travel to get there, but I also lose out on all the money I would otherwise have earned that day.  Still very worth attending but I can only afford to do a certain number of physical courses in a year!  However, the internet is opening up so many more possibilities, and now you don't always have to leave your house to do a course.  This is great – you can do more training, keep up to date with evidence-based practise, but also fit it in around your life and take the course whenever suits you.  I also like the fact that you can watch bits again if you don't understand or forget what was said.
In today's post, I am going to share a few places I have found where you can take online training courses for speech therapists.  The first two are even free!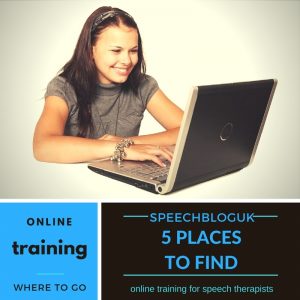 I'm sure there are lots more online training courses for SLTs that I don't know about.  Do comment under this post and let us know about any others you have found useful.
Also, schools and nurseries find online training options really useful too.  It means they can send people on courses without having to buy in supply teachers or bank staff.  If you work with a school or nursery who would like some online training on how to work on speech sounds, don't forget to let them know about our course Supporting children with speech sound difficulties where we give lots of background information and then take them through the therapy process one step at a time.  There is also a Facebook group they can join and ask any questions they have as they go and we will answer them.