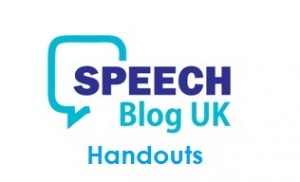 We hope you find these handouts useful. Please feel free to download and share them.  However, do not alter them, sell them or remove our copyright or logo.
These handouts are only to provide general guidance. They are not intended to replace assessment and advice from a qualified Speech and Language Therapist/ Pathologist. If you are concerned about a child's development, please seek out an appropriate referral.
Comprehension tips General advice to use with a child that struggles to understand what is said to them.
Expressive language tips Guidance and top tips for supporting children's expressive language development.
Speech sound tips How to successfully communicate with children who have unclear speech.
 Signing Information on why and how to sign with children, including ideas on where to start.
*New* Making therapy fun!  Ideas and tips on how to make therapy fun and keep children engaged.
Questions to ask on school visits Choosing a school for you child with Special Education Needs and Disabilities (SEND) can be difficult. Here are some suggestions of questions to ask.  Read in conjunction with this post.
Useful Websites Websites and blogs that offer useful information.
Top 10 Apps for 4-7 year olds.  This app list is aimed at schools who are looking for apps to work on speech and language things for a variety of children.  They will also be useful for parents and speech therapists.  For more information about the apps, see this post.
Top 10 Apps for 7-11 year olds.  As above, this listed is aimed at schools and parents who are looking for apps to help support speech and language skills.  For more information about the apps, see this post.
 First Words Series
Do you have a child just starting to babble and talk? These three handouts give lots of ideas on how to encourage the early words up, go and more.
*New*  We also have a short free course, Speaking clearly and confidently.  Click on the picture to find out more and take the course.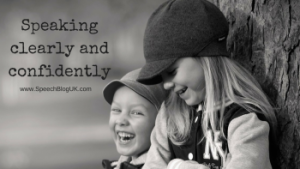 Also, click the picture below to join our mailing list and receive a free 16-page e-book, "Supporting children with speech sound difficulties".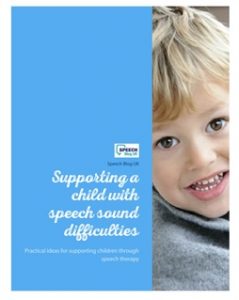 You can also buy our 123-page e-book, "A Parent's Guide to the Speech Therapy Process" as well as 4 packs for working on different speech sounds.  Click here for more information.