Helen has already reviewed the fantastic new Colour Match game from Orchard Toys this week. You can read her review here.  I had another new one – Catch and Count
game, very kindly sent to us from Orchard toys.  This game is designed for children aged 3 and over and for 2-4 players.  It is currently priced at £7.50.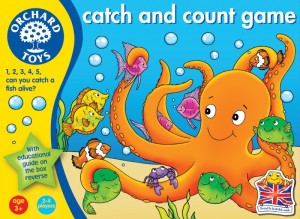 I know both Helen and I have commented on this before, but the first fantastic thing about any of the Orchard Toys products is the quality.  The boxes are tough and survive bouncing around in the boot of my car and the actual games always have bright, eye catching designs and are durable enough to be used everyday.  This alone is very important!
In this game there is a great little octopus that holds the spinner and it can remain constructed and still fit back in the box – very clever.  The idea is that each person has a jar and has to collect as many fish as possible. You do this by spinning the spinner and finding a card with the corresponding number of bubbles on.  But watch out…. if you find one of the sharks, he scares all your fish away!  My son thought that was great and particularly funny as I kept finding the sharks!
The game obviously supports counting, number recognition and turn taking, but I have also used it for the following things.
As a motivator for any speech or language target you might be working on. So before the child can have their turn in the game they have to say their target sound or word or answer a question etc.
There are lots of opportunities for counting with this game. I always use these to reinforce all the speech sounds in the words – so another useful opportunity to reinforce speech production!
It covers some of the early concepts like more/ less and colours.
I found this game useful for developing expressive language as well. With a younger child, we hid the cards around the room and talked about them as we found them. So if the child just said 'fish' I could extend it and have a 'green fish' or 'big fish'.  For an older child I introduced some new adjectives and thought about we talked about scaly fish and their fins.  We also talked about the shark and if he was scary or friendly!  I had quite a long discussion with one young man, who loves animals about where the fish lived and what food they ate.  I even managed to work in the word anemone in that conversation!
Another high quality, educational game from Orchard Toys. A great addition to my therapy bag!