Happy Easter weekend everyone!  Most schools here only finished yesterday for the holidays, so Easter seems to have come around very suddenly this year and I found myself last minute shopping for Easter eggs yesterday morning!  As I looked at all the shelves and the different sizes and colours of eggs, I realised how much language potential there is in Easter eggs!
We have bought our 3 year old lots of tiny eggs, and we are going to hide them around the house for her to find on Sunday.  If you're doing something similar, think about all the opportunities there are for working on language skills whilst egg hunting.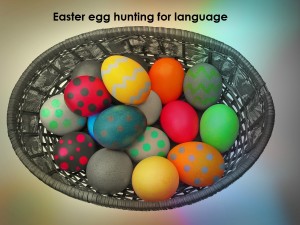 See if your child can guess where the egg might be.  This is great for practising prepositions (eg is it under the bed?  Or behind the cupboard?).  Alternatively, see if they can say where they found it.  If nothing else, this makes the egg hunt last longer!
You can also practise using adjectives – is this egg big or little?  With an older child you could talk about other synonyms for these words – maybe it's huge or tiny?  What colour is it?  You can also use other adjectives – is it smooth?  Stripy?  Shiny?  Delicious?!
With older kids, why not give them clues to find their eggs around the house.  They could be easy literal clues, or things that require more working out.
If your child is practising specific speech sounds, you could hide sound pictures along with the eggs and they could say what the picture is when they find it.  Or you could just hide the pictures around the house and they could trade in a certain number for an Easter egg!  You could do the same thing with other language cards.
Happy Easter everyone from Elizabeth and me – don't eat too many eggs when you've found them!