We were recently approached by Pentagon Play about hosting a guest post.  We have written a number of posts about the importance of play and getting outside to help language development.  Pentagon Play make some beautiful children's play equipment and also have an interesting blog.  We liked Sam's post about adapting the playground to help children with Special Educational Needs.  Today, Sam is writing about developing language outside.  Sam writes….
"Outdoor play is more than just a spare time activity for young children. In the same way adults learn and build new skills through training, children use outdoor play to better understand the world around them. While you might not immediately see the level of development going on in their games and performances, the results are always crystal clear.
One key skill that benefits greatly from outdoor play is speech and language. Again, this may not be obvious to everyone, but through the use of outdoor play equipment both at school and at home, children can develop their levels of socialisation and self-expression.
The Role of Outdoor Play Equipment in Language Development
It's long been known that physical activity helps children find their voice. Language development is a very natural process — and one that can be easily encouraged by the introduction of outdoor play. Children aren't inhibited by volume or the pressure of talking in front of their peers. Instead, they are able to let off steam and express their opinion in a fun, non-intimidating setting.
Through the use of creative play equipment, they can also bring their thoughts and ideas to life. A child's imagination is a fantastic tool for exploring and expressing new vocabulary.  Role playing games, which allow children to identify with different characters and voices, enables them to understand how others use and manipulate language, and how it is different to their own.
But, even more simply than this, outdoor play equipment opens a child's mind to the link between words and physical objects or actions. Word association is integral to the language learning process and simple outdoor games can reinforce vocabulary through the use of actions.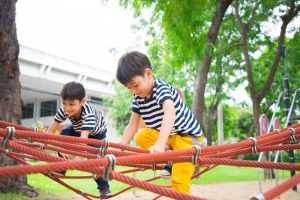 Encouraging Linguistic and Social Skills Outdoors
Of course, children need a basis to start from, which is why the playground is such a great place to teach speech and language skills. Both the visual stimulation of the outdoors and the opportunity to talk and discuss ideas with other children helps them learn the fundamentals of conversation, as well as when and where it is appropriate to say certain things.
Parents and teachers can encourage the development of language by providing children with new and varied learning opportunities. Ideally, these activities should involve open-ended outdoor playground equipment, which gives children the chance to express and explain themselves through play.
Creating stories and acting them out can be a particularly stimulating task, especially for those who struggle to sit and talk in complex sentences. In this way, an outdoor climbing frame can become a pirate ship and a trim trail can become the pathway to lost ruins. Once children are provided with a setting, they can begin exploring it through the use of questions and problem-solving. To speed things along, you can describe actions they might want to try, such as galloping, jumping, running, and stretching.
These concepts can then be integrated into other areas of outdoor play. The idea is to introduce new words and ways of communicating with each activity, so games like 'What's the time, Mr.Wolf?' and ' Simon Says', which are primarily action-based, can help children expand their vocabulary invaluably.
The more children are exposed to outdoor play, the more opportunities they will have for natural, stimulating conversation. Outdoor play equipment enables children to express sentiment as well as sentences — something that plays a big part in social development. While it isn't feasible to learn outdoors all year round, taking the chance to connect children with the abundant wonder of the outside world can be critical to their ability to talk about it".
Author Bio: Sam Flatman is an outdoor learning specialist and an Educational Consultant for school playground equipment providers Pentagon Play. Sam has been designing playgrounds for the past ten years and has a passion for outdoor education. Sam believes that outdoor learning is an essential part of child development and deserves to be a core part of any school curriculum.