Today, we are very privileged to have a guest post from a parent.  Sarah Moriarty has a child with a severe speech disorder who attends a specialist centre.  She has agreed to write about her experiences for us.  I'm just going to hand straight over to her as I think her words say it all.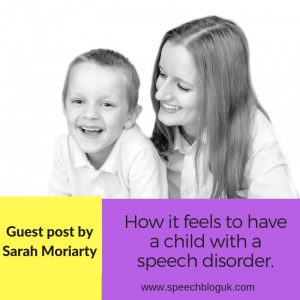 "I waited 4 years for my son to call me 'mummy'. I cannot begin to describe how much my heart jumps every time he says my name.
My little boy attends a specialist pre-school for children with moderate to severe speech and language disorders. During his first term, I remember mentioning to his wonderful speech therapist that he couldn't say mummy. She promised me she would work on it with him and that he would get there, and I remember thinking that it might be asking too much. He couldn't say m. He had a phoneme collapse so that lots of his sounds were replaced with a b. Mummy was 'boh'. So I was quite sure that his speech therapist was aiming very high and not to get my hopes up.
It was a couple of months later when my son came home from nursery and said 'hi mummy'. Perfectly. Mummy. The most hard earned and perfectly pronounced m sound I have ever heard. Life with a speech disorder means that my son has to work incredibly hard to form his sounds, and to make words, but they are coming and I can never take for granted how much work goes into them.
Every day at home we have 'talking time'. I wanted to make it part of our daily routine so that it's not seen as extra work. In fact, as a middle child my son relishes the opportunity to have so much attention on him and special work to do. His older brother has reading and spellings to do after school. If my older son has homework, my younger son wants homework too. He adores his brother and wants to be just like him, so we frame 'talking time' in the same way that we spend time on homework with his brother. It works for us so far.
The biggest challenge is keeping him interested in wanting to practice his speech sounds. Some days we spend only 5 minutes working on new sounds, some days we can spend 30 minutes. His speech therapist from his nursery gives us material to work on. I don't know who gets more excited when he comes home with new sounds or words to work on. It means progress, and every small step forward is a huge deal in our house. Three months ago my son couldn't say the letter m. Six weeks ago he couldn't say the letter d. We celebrate every sound, every word, every attempt at language.
Today, we began 'talking time' after lunch. His little sister was distracted with a toy so I grabbed the opportunity to begin. I began by placing the flashcards on the table. Tea, pea, D, tree, he. 'Can you give me 'tea' please?' My son picked up 'tea' and said 'tea'. Then he picked up 'pea' and said 'pea'. He waved the cards wildly around in the air and then said to me very firmly 'mummy choose, where tea?' I followed his instructions and purposely pointed to 'pea'. He laughed and said 'No mummy. There pea. Try again'. I pointed to 'tea'. 'Yeah. Tea. Good job mummy. Well done'.
This has never happened before. It made my heart simultaneously melt with love and explode with pride. This is what happens when a child has a brilliant support network around him. This is what happens when a child's confidence is built up by his speech therapists and he hears praise for how hard he is trying. He is taking it all in. The sounds are coming, the words are coming, the sentences are starting to form. Speech therapy is helping my son to be understood, something that so many of us take for granted.
He has struggled for so long already because he couldn't tell us what he was thinking and feeling. For a long time, if he wanted to ask me for something he would take my hand and pull me in the right direction, pointing to whatever it was that he needed. Then the sounds came. 'Gi' meant banana. 'Bih' would mean drink, but sometimes it might mean something else.
It is an awful feeling as a mother for your child to try to tell you something, and have no idea what it is. I had a strategy for these moments. Firstly, I would guess familiar requests. Drink? Toy? Garden? My son would get more frustrated, shaking his head, no, no, no. 'Show me where it is?' was my second attempt. If I still couldn't guess what 'bih' meant I would say 'ok' hoping that he was asking me a question. By this point my son would be crying with frustration because I couldn't understand what he was telling me. I remember after one of these communication breakdowns, my son pointing to a picture of a pig in a book. 'Bih' meant pig. The book was right in front of me. I had been so eager to apply my strategies for guessing what he was telling me that I hadn't looked around the two of us to find clues. He'd been telling me the whole time.
Now, as we near the end of his pre-school placement, mainstream reception looms ahead. I worry, a lot. Will his teacher understand him? Will they take the time to listen to him? Will they help him play and join in with the other children? Will he cope? Speech therapy for us is a long journey. I know there are several more years ahead. However, in my moments of worry about the future, I think about how far my son has come. He can put 4/5 words together now. He has hundreds and hundreds of words. He can say d, m, n, t, p. He can say 'ba na na'. He can call me 'mummy'."