It is no secret that Elizabeth and I love using our iPads with children.  Today I thought I would share one of my favourite app companies with you – I Can Do apps.  They make a range of speech therapy apps, all of which are really useful, but today I'm just going to talk about the two I use most often – Verbs and Associations.  No-one has asked me to write this review and I paid for the apps myself.  I am just sharing things that I find useful in therapy.
Verbs
One of the staple basics of any speech therapists resource cupboard is a good set of verb pictures.  You can use them to work on so many different targets.  I do have a couple of good paper sets of verb pictures, but this app is also great for this.  When you open the app, you see these options
If you click on the top option, you get a huge set of verb flashcards.  These include simple and more complex verbs, all portrayed in beautiful colour photos with the word written underneath.  Even better, there is more than one example for each verb!  Here is an example of one of the flashcards.
I often use this part of the app, just for ease, rather than carrying around lots of sets of pictures.  I can use them to do all kinds of activities (see our post on verbs here).
One of the great things about I Can Do apps is that they all break a skill down into several different levels.  Each app offers 5 different levels, which immediately increases their flexibility and also makes them great to recommend to parents and schools, so they can work through the levels.
In my opinion, Verbs would be worth the money just for the flashcards, but it also has 4 other activities, mostly relating to tenses and grammar.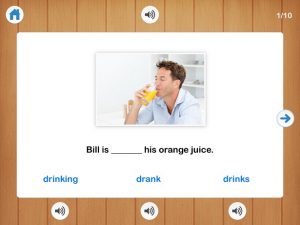 Here are some examples from the other levels.
This app is available in the App Store for £3:99 – an absolute bargain!
Associations
This is another app that I use really frequently.  I very often work on making and describing connections and I'm always on the lookout for new resources to use.  This app fits the bill perfectly.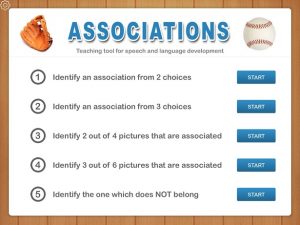 As you can see, there are 5 different levels to choose from again.  Here are examples of 2 of the levels.
There are again beautiful colour photos and a range of different useful activities.
These apps are not the most exciting apps ever – you scroll through 10 questions, and it gives you a score out of 10 at the end.  There is no reward activity included within it, so with some children I will combine the app with a reward game.  So for example, we might talk about one of the verb pictures and then put a sword into Pop up Pirate or knock down a skittle or whatever activity I might have used with paper pictures.  Some children will sit and just work through the questions though just because it's on an iPad and you can get loads done in a really short time!
This one is also available in the App Store for £3:99.
I have just talked about my two favourite I Can Do apps today, but they have a range of other apps too, working on before/after, sequencing, yes/no questions, phonological awareness skills and lots more.  You can see the full range here.
Also, do look out for their bundles.  They offer bundles of 4 or more of their apps for a reduced rate.  Even better, if you already own one, as you click through the buy the bundle, it will give you a discount for the one you already have!  I now own most of their apps because of this!
Which is your favourite I Can Do app?