Helen and I have been writing  a series of posts about using narrative therapy.  If you haven't read those yet I recommend that you go and have a look first.  Today I am going to write about bringing all the story elements together and using whole stories in your therapy.  I really love this bit and greatly enjoy finding new stories to use!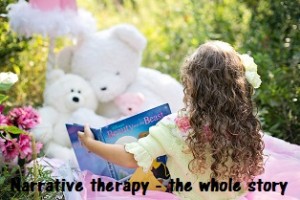 Black Sheep Press have a great pack called fun with narrative. I LOVE this as it uses many of the Key Stage 1 stories such as The Gruffalo
, We're Going on a Bear Hunt
and Peace at Last
which the children should be familiar with from school.  The pack goes through each story and then gives you various games to play to support the different narrative elements. So let me run through how I use it – I'm going to use Bear Hunt as an example!
When I run any group with Key Stage 1 children, I always have rules which we run through with visual support first.  We talk about good sitting and what that looks like, good looking and listening and I always have a rule about putting your hand up and WAITING – to try and stop calling out!
We then recap the story elements and try and think up examples of who's, where's and when's. I always use the visual support for each element and the Makaton sign.
I then read through the story and encourage the children to join in if they know it.  Bear Hunt is great as it has repetitive phrases that they can join in with.  It lends itself to actions as you squelch through the mud and tiptoe through the cave!
I then work through each story element and see if the children can find that element in the Bear Hunt story.  There are so many great 'where's' and you can encourage the children to get them in the correct order as well!
The Fun with Narrative pack then gives you lots of great carry over and extension activities and pictures to support the understanding of question words linked to the book.  For example in one activity you match a range of animals to the different places from the story.  In this way you can support a range of vocabulary and reinforce the who's and where's.
One more point that I think is really important is that I always try and repeat this again the next week/ session to support understanding.  Repetition is really important!
With older children you can still use the carry over ideas, but we do more of the work verbally, or look back through the book to support the discussion.  It is interesting that even 'simple' children's stories such as the Gruffalo can be quite tricky to fully understand, even for junior aged children.  It is tricky to pick up that initially the mouse doesn't believe in the Gruffalo and is making him up to scare the other animals that want to eat him.  Then you have the flip in the story that the Gruffalo does exist and the mouse tricks him. It's really quite complicated!  So with older children it's about picking harder stories where you can talk about the emotion and dialogue elements and how their actions change the outcome of the story.
Another part of complete stories you can discuss is whether the children liked the story or not. Being able to express and opinion and try and explain your reasoning is another important skill.  I also like talking about the words and language used in the story.  Are there any great adjectives or do they use similes? When you are encouraging a child to record their own narratives, Black Sheep Press also have some great story planners to encourage the child to use all the story elements in the correct order.
Something else I love doing with older children is including real objects in our stories.  This idea was taken from the fab Louise Coigley at Lis'n'Tell.  If you can get on her training courses I highly recommend it!  So I try and find exciting and different looking objects (often holiday trinkets!) or get pictures from the internet and ask the children to incorporate them in a story. You ask these questions to help:-
What is it?
What does it do?
How did you end up with it?
We have created some fantastic magical stories about dragon eggs and giant's treasure! It's a lovely way to support imagination, which is something children with language difficulties find so difficult.  Initially they need support to generate ideas, but they do get the hang of it the more you practise.
So these are my favourite ideas!  What else do you use for Narrative carry over?