We love Orchard Toys and have reviewed lots of their games (look out for another game review later this week too!)  So, we were really excited when we found out that they have released their first app!  I was provided with a copy of the app for free, but the views are my own.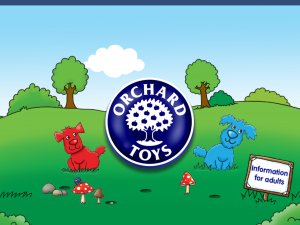 This app is 3 simple games in one.  You can choose which game you want to play and each has 3 levels – easy, medium or hard.  The 3 games are:-
 Jigsaws.  These are the same as some of the lovely boxed jigsaw sets that Orchard Toys do, just on the iPad screen. 
Pairs.  A game where you have to turn over two cards and try to find two that match.
Colours shapes patterns.  This is another matching game.  You can choose whether you want to match colours, shapes or patterns and each of these has 3 levels which is nice.  You see a dinosaur with lots of pieces to match scattered all over him.  You drag the matching pieces from around the edge and put them on top of the corresponding shape.
It's nice to have 3 different games.  So how could you use them for working on speech and language?
These games would be great for working on shape, colour and pattern vocabulary.  There are quite a range of colours and shapes at the hardest level, so you can work on pentagon and semicircle if you want to as square and triangle!
The puzzles could be used for description skills.  You could get your child to describe the different parts of the animal as they put each piece in.  This is quite hard if you have got it on the 12-piece level.
They are great games for early turn-taking skills as each turn is very short, so a child who is just learning to wait can build up their skills gradually!  Talk about "my turn", "your turn" as you play.
You can just use them as a reward game with any set of speech or language cards.  Because of the really short easy turns, they work really well for this as you can run through lots of speech words!
With the pairs game, you could talk about similarities and differences between the two pictures.  They are quite different pictures, so the similarities might be challenging at times, but there should be lots of differences!  Alternatively, you could work on description skills by giving an adjective for each picture as you turn it over.  Make it harder, by not allowing anyone to repeat an adjective that has already been used.
One thing I would mention about these games is that there is a tune that plays on repeat in the background all the time.  This makes it more fun for the kids, but I always put my iPad on silent if I am going to be using it in speech therapy sessions.  It would be nice if there was an option to turn the music off but still hear the dinosaur roars etc.
This app is currently selling for £0.99 in the app store.  You can find it here.