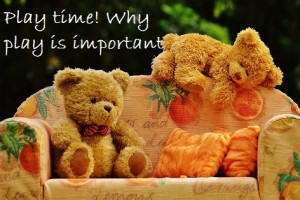 Play is a really important skill that children need to learn and practise.  It helps with language and vocabulary development, sequencing, creative thinking, attention and listening skills, social skills, turn taking – I could go on! You can help your child's play develop, whatever their age.  You don't need hundreds of expensive toys; you just need to show how they can be used.  You certainly don't need lots electrical beepy, flashy toys – they may catch your child's attention initially, but if all you have to do is press buttons, you are not teaching them to play and experiment.
A play 'tea set' and pretend food is a great toy and can be used in lots of ways.  You can name the items and talk about colour.  You can make meals and mix, chop and cook the food.  You can make different combinations of food and decide if you would like it or not.  You can take turns and share the food.  You can show how sequences develop e.g. pour some tea and drink it, then ask for some milk or sugar and stir it in, then pretend it's too hot etc.  Importantly, you are pretending and experimenting and it's OK!  You can also have loads of fun and do most of this with the pots and pans out of the kitchen – it doesn't need to be toys!  Now girls tend to more naturally stay at this type of play for longer and will have tea parties with their toys – boys may not and that's fine!
Another favourite is cars, trucks and trains. Now left to their own devices, this normally ends up in the car being shot across the room as fast as possible and/or crashing into something – great fun!  But this can be extended.  Make it into a ready steady go game, so the child has to wait for you to say go before they can fire the car off.  You can talk about which cars can go fast and which are slow.  You can even introduce a story, for example talk about where the people are going, what they are going to do when they get there, or if they crash who is going to come and help them!
Toy animals and a farm can be used in lots of ways too.  Now, you don't need an expensive farm – you can just use some empty boxes for stables and pens. Again you can name the animals and talk about what noises they make.  You can get them up, feed them, put them in the fields, then get them back and put them to bed in the stables.  You can talk about what they might eat, or make up stories about what they might do – might one escape or go on an adventure?
Play doesn't have to involve toys; some of the best games just use things from around the house.  One of my son's favourite games is making a fort/ den.  We get a blanket or duvet cover and put it over some chairs and the table – and you have a den!  We would then figure out where the entrance and exit was, put some pillows in and some of his toys.  He would then go on adventures and have to come in and out of the den to get/ collect things.  He loved (and still does) having tea in the den!!
You can also instil some important rules – specifically about tidying up!  Before the next lot of toys come out, you have to tidy up what's out.  You can also use this opportunity to name and talk about the toys as you tidy up to help with vocabulary development.  Plus it means your living room doesn't look like a bomb's gone off by bed time.
Most importantly remember that play should be fun, it should be creative and exciting!  It shouldn't be a battle; let you child play and then make suggestions – don't take over.