Helen and I have been lucky enough to use a number of apps from Therapy Box.  They are always well designed and versatile.  You can read our reviews of the Sort It Out and Minimal Pairs apps on our blog.  You can see all the Therapy box apps on their website. Therapy Box also offers training and hardware packs so well worth a look. Today I am review the ChatAble app which is an AAC (Augmentative and Alternative Communication) app designed for the iPad.  I did receive a free copy of the app, but the views are my own.
Therapy Box describes their latest app on the website:
"Create and use symbol based grids… or use photos to make visual scene displays. Or, take both and create a hybrid page! ChatAble is unique and will help to change people's lives. Easy to set up, people of all ages and abilities can use ChatAble to communicate at home, school or with their friends! The possibilities are endless with ChatAble!"
The ChatAble app currently retails at £109.99. Now although initially this sounds like a high price, when you compare it to other communication devices that can cost thousands of pounds, this is very reasonable.  So what do you get in this app and does it compare to other communication devices?
When you open the app, they have started you off with an opening grid with a selection of categories on. For example drinks, feelings, transport, my house etc.  So you can see how the screens interact and how to build your sentences.  You immediately have a bar at the top where you make your sentence and a play button.  So if you have used other AAC software you feel quite at home!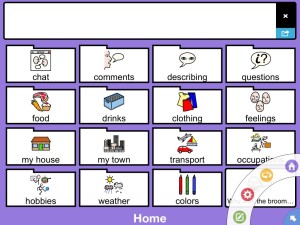 There is a small arrow in the bottom left hand corner which allows you to access the settings.  It is at this point you realise how significantly huge this app is!  I have been using it for a while now, but am sure I have hardly scraped the surface of all the fantastic things it can do.  I haven't yet used it with switches or linked to the internet, but it's fantastic that you can!  Although I love the fact you can email/ facebook your sentences – so I have emailed sentences the children create to their parents!  I could easily fill ten posts looking at different aspects of the app and still wouldn't do it justice: So I have decided to write about the things that have jumped out at me when using it instead.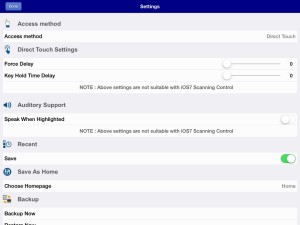 One of the most striking things about this app for me is how user friendly and quick it is to make alterations. I have used a range of grid based software on various devices over the years, but still find you need some training. Whereas I opened this app, went into settings and immediately found how to change the voice, create new grids or scenes and customise what was there.  I had to make my background purple to match my iPad case! It is very logically laid out and felt easy; I wasn't worried about doing the wrong thing!  There are over 12,000 widget symbols available, you can take a photo or use one from your device and even link to websites, or you can just have words with no image.
Another element I found really useful was that you can create grids of different sizes as you would expect, but you can also make a 'visual scene'.  This can be a photo that you attach information to – I found this useful for encouraging conversation and as a reminder of work we had previously covered.  The child and their work was in the photo, and could be referred to, to aid memory and word retrieval etc. Then you can also have a combination of grid and visual scene!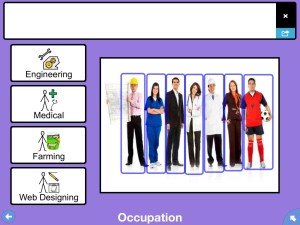 The only negative point that springs to mind is the voice.  It was the first thing I changed when starting to use the app!  There is a selection and you can change the rate and pitch, but they still aren't fantastic.  But to be fair I haven't yet heard a great voice output on any AAC software!
So yes this 'app' may initially seem expensive, but it is a complete communication system and in some ways much more versatile than traditional communication devices.  Being on the iPad makes it much more portable and as such more likely to be used.  It is versatile and very user friendly. I loved being able to use pictures of the children and their  toys or work in the visual scenes. So if you are looking for an AAC app this is definitely one of the best.