We were recently contacted by Special iApps and asked to review some of their apps.  They very kindly gave Helen and I copies of the apps to review and have also offered to give some away through our blog! However the views expressed are my own.
Special iApps is a non-profit organisation who aim to help children learn and also support charities and organisations that help children.  It was founded by a group of parents with experience of both education and software and they design apps to engage and educate children with special needs. To find out more about Special iApps and their products visit the website here.
The app I'm going to review today is called Special Words.  This is designed to help children recognise a range of early vocabulary by matching pictures to the written word.  It is based on the See and Learn Language and Reading resources from Down's Syndrome Education International.  The Durham iPad project has released a research project looking at the effectiveness of the app which you can read here.
I was immediately impressed with the interface of this app.  It is very easy to use, but has been broken down into graded levels that make it a very effective tool.  You have four options –
Match pictures – where you match picture to picture, but have the spoken and written word to reinforce
Match word – as above but you match written word to written word
Word to picture – Here you have 4 pictures and have to match the written word to the correct picture
Picture to Word – the reverse of the above, so you have to match the picture to a choice of 4 words.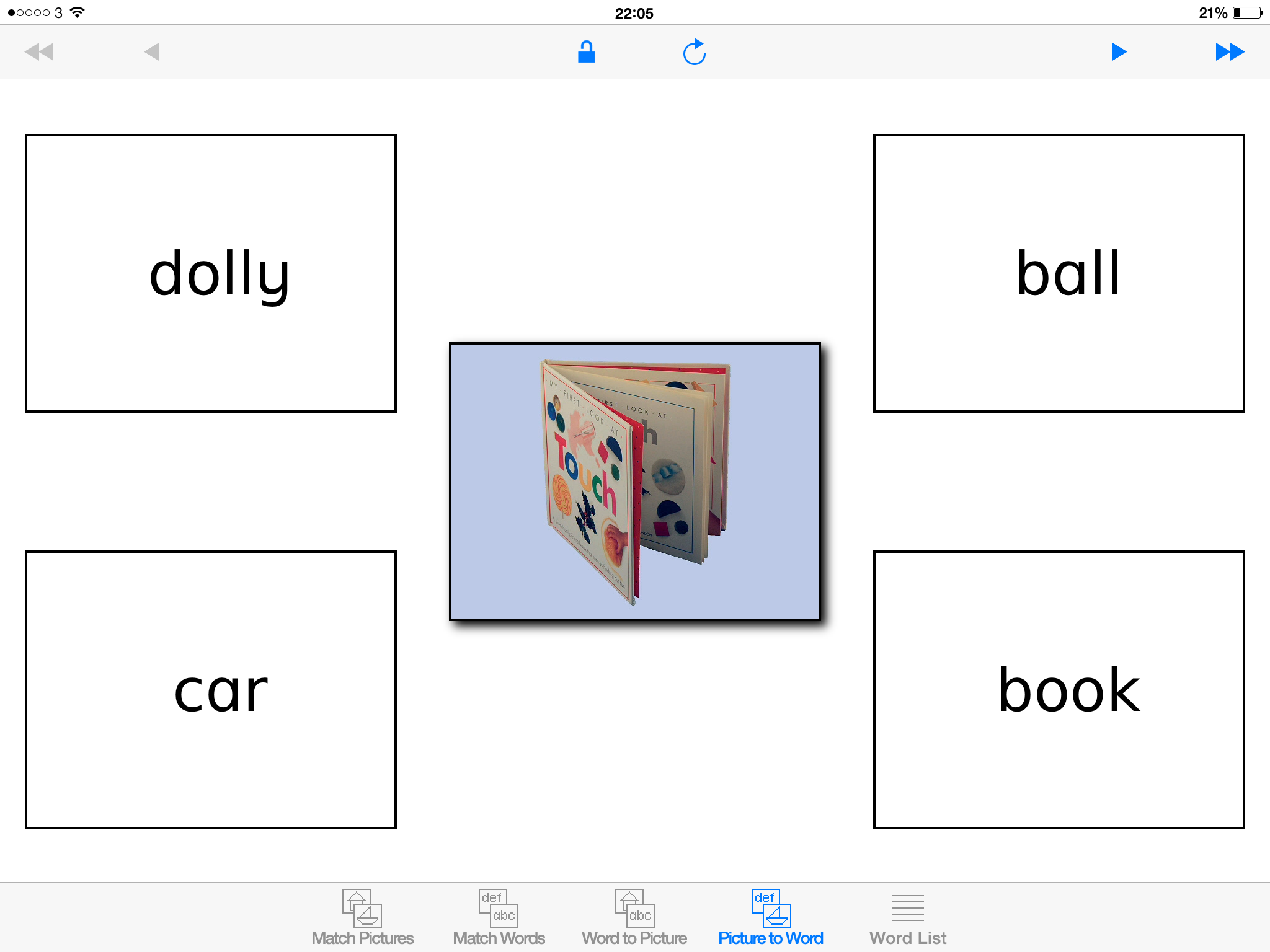 This ensures that you can introduce the vocabulary and written words, but have a number of ways to check understanding and slowly make the tasks more difficult.  I like that each 'task' is quick, well presented and engages children.  I have a number of children who have wanted to keep going and don't want to stop!  They also like that you get a cheer and the pictures wiggle when you correctly finish a set of words.
For me, it is important that an app works for a number of different children's needs to be really useful.  These apps were designed for children with learning needs and Down's Syndrome.  I have recently been using it with 2 children with severe phonological disorders, who have very limited output and a child with a diagnosis of Autistic Spectrum Disorder.  It has been a fantastic introduction to reading for all these children.  I am very pleased with the progress of my children with severe speech disorders.  They will not be able to follow a system where they sound out the letters in a word – they need a whole word approach and this app is a fantastic start for them.  So for me, I can already see the versatility of this app and can see that it will work for children with a range of needs.
The other thing I was very impressed with was the editing facilities of the app.  They are so easy to use and make the app even more versatile.  With a few presses you can change the order the pictures are presented in (to ensure the children have learnt the word, not just where on the page it goes!), change the words into different sets or add you own.  You can easily change the photo – so if your child needs the photo to be of their doll not just a doll you can do this.  You can re-record the voice or change the written word.  The app comes with 96 pictures covering a range of basic nouns, verbs and basic concepts, but you can easily add more. Wow!
This app is currently priced £13.99, which for the range of pictures and how easy the app is to edit and add more to, seems a good price.  I think this will be useful to parents and SLT's.  The app is a fantastic introduction to early reading skills for younger children.
So now to the giveaway!  Special iApps have very kindly agreed to let us have copies to giveaway!  So if you think this would be a useful addition to your iPad, please leave a comment on this post.  We will randomly pick a winner on Monday 30th December.Good Luck!