A couple of weeks ago, Elizabeth shared a review of SpeakColorsHD.  You can read her review here.  I was lucky enough to be given a free copy of SpeechCards to review.  I have been given nothing else for this review and these opinions are my own.
SpeechCards is a great and very versatile little app.  When I initially looked at it, there seemed to be not much to it, but as soon as I took the time to start exploring, I realised that it is a beautifully easy app to use to create pretty much any set of flashcards you might want, and be able to carry them around with you on your iPad!  It incorporates a wide range of features as well.
When you open the app, the screen looks like this.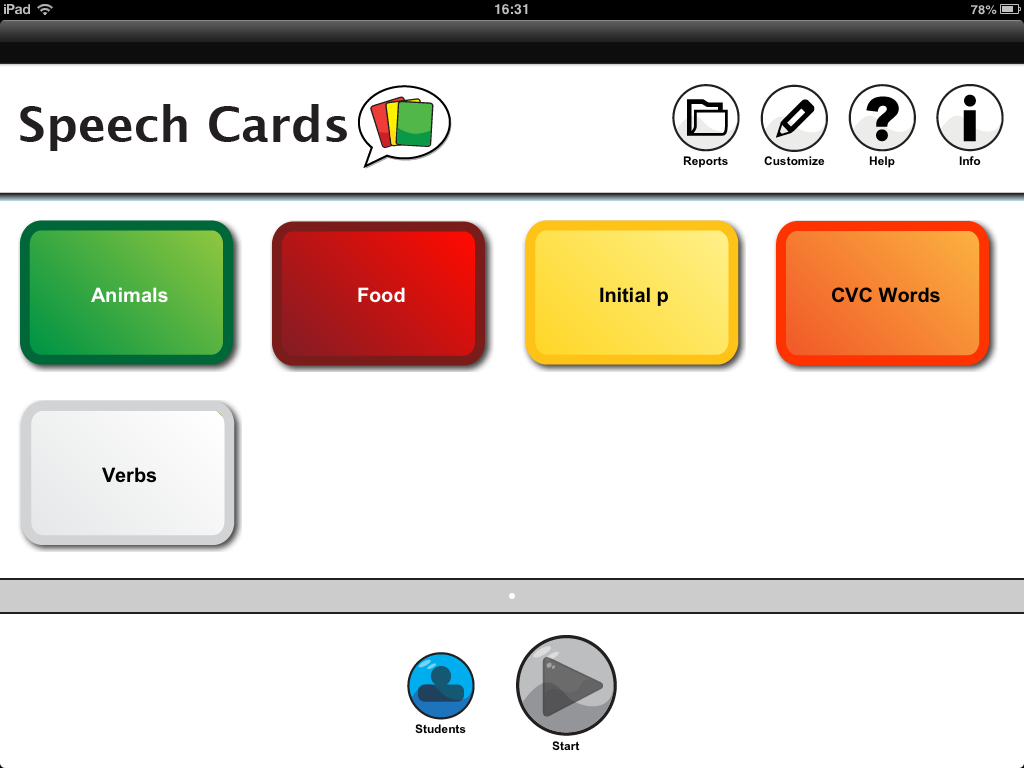 The app comes with 4 sets of flashcards already programmed in.  These are animals, food, CVC words and /p/ initial words.  (The fifth set you can see here is one that I added myself – I'll come on to how easy this is to do in a minute).  Each set has 10 cards in it with beautiful colour photo pictures.  Here is an example of one card from the animals set.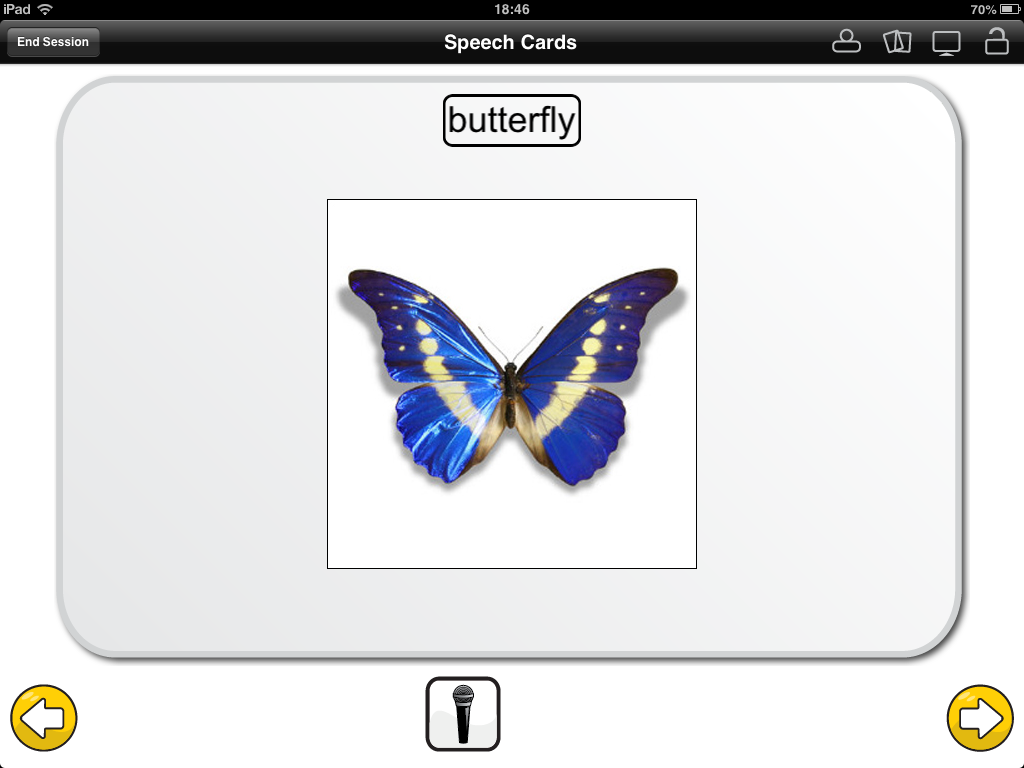 If you want to add cards, or change any of them, it's really easy to do.  For example, as a Brit, I wanted to take the word "Popsicle" out of the p words set, as that is not a word we use over here.  It took me just a couple of seconds to change it!  All you have to do is click Customise from the home screen and choose the card you want to change and you can change the text and picture just by going into each box.  When you want to add a picture you can choose to upload a photo stored on your iPad, take a photo right then (if you wanted to add something right in front of you) or choose to search for an image to use using the Bing Images library.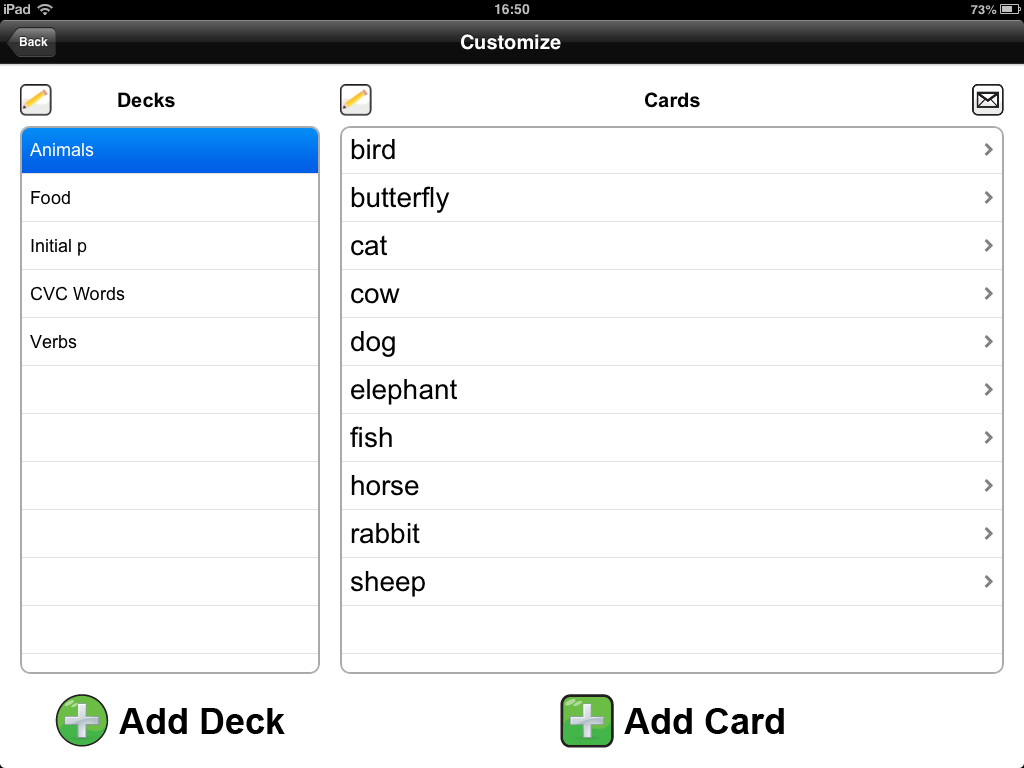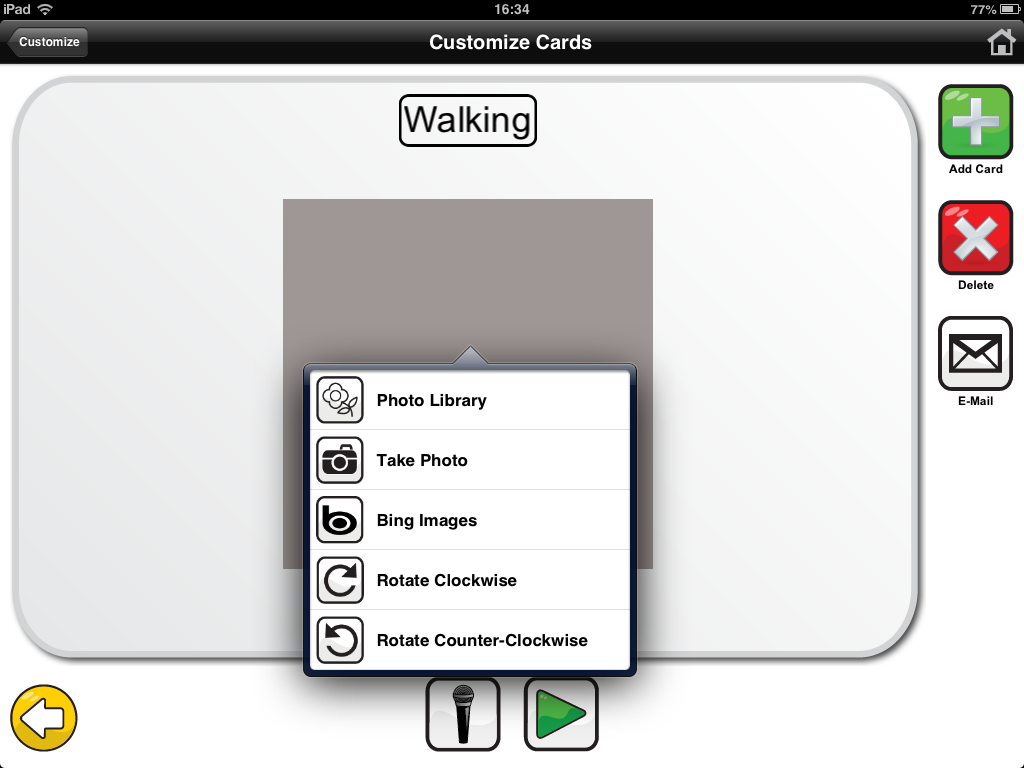 Here is an example of some of the Bing images I got up when looking for a picture for "walking" in the verb picture set that I created.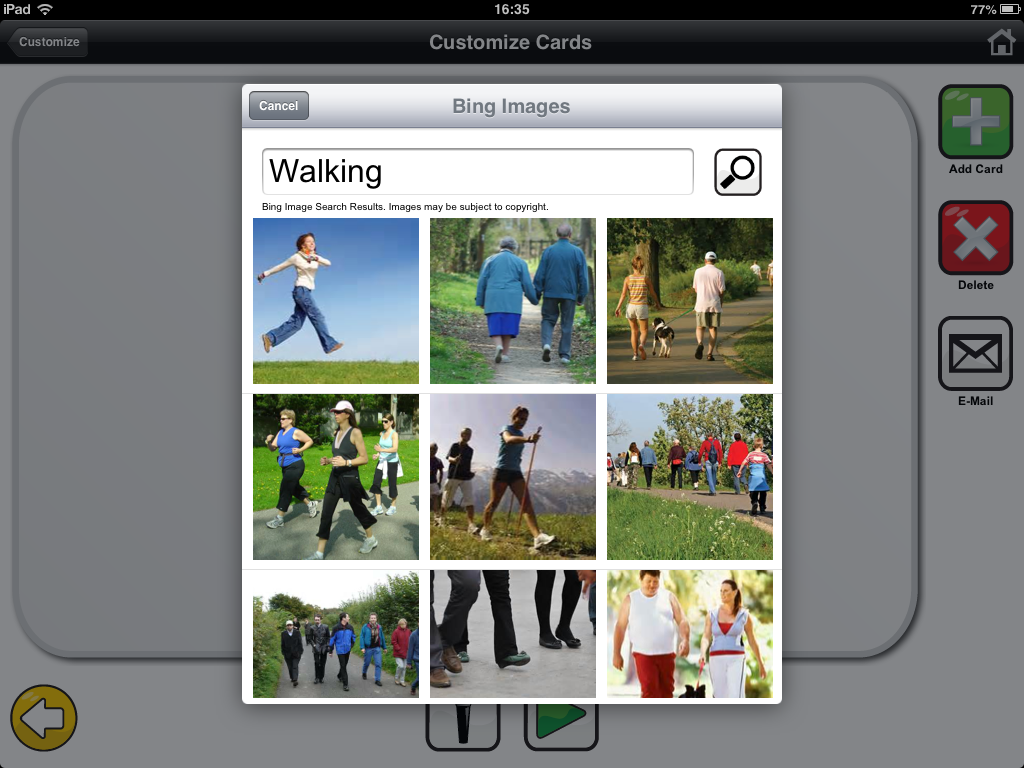 Other features of the app
You can add an unlimited number of students in to SpeechCards and track their progress.
There is a recording feature on each card so that you can record the student talking and they can listen back
And my favourite thing about it is that you can email decks of cards to someone else, which opens up great possibilities for sharing the resource with other therapists or parents.  For example, I have a child working on Core Vocabulary.  I can make her own personal set of cards of the words we are working on and email the deck to her parents so that they can practise them at home too with the same pictures.
 Pros
 Really easy to change and adapt cards
Lovely photos and easy to find pictures if you don't have a picture of the thing you want to add
Able to track data for multiple students at the same time
Great facility for sharing within the app
Cons
It only comes with a few sets of cards ready made, but it's so easy to add to, that I don't think this matters
Find out more about the app on the RWH Technology website here or download the app in the AppStore for £6.99 ($9.99).  There is also a free Lite version if you want to try before you buy!