Adjectives are really important words in a sentence.  For example, think about these three sentences:
The man took a walk through the forest.
The old man took a long walk through the dark forest.
The elderly man took a meandering walk through the gloomy forest.
The first sentence makes sense but the adjectives (describing words) make a big difference to how interesting the sentence is.  More sophisticated adjectives make for an even better sentence.
As kids move into Junior school (7+) and begin writing longer stories, using adjectives is often a target for them to move into higher-level writing skills.  Many children (especially those with speech and language difficulties) don't use many adjectives in their spoken language and therefore it's really hard for them to use these in their writing.  Here are some ideas of how to work on adjectives with children.  Remember that there are many, many adjectives!  As you play some of these games, you are bound to come across words which are new for your child. Pick one of these, write it down and talk about it again to help expand your child's vocabulary.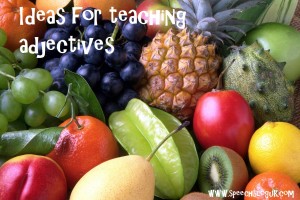 Put an item into a box or bag.  Ask your child to feel inside and describe what they feel.  Is it hard?  Spiky?  Fluffy?  Then pull the object out and see what it is.
Food can be a great way of introducing adjectives.  Taste different foods with your child and talk about them.  Are they sweet?  Juicy?  Crunchy?  Unusual fruits and vegetables can be really good for this.  Talk about how they look and smell as well as how they taste.
If you have a group of children, split them into two teams.  Choose an adjective and see which team can be first to find something in the room that fits that adjective.  Ideas – soft, pointed, square, metal, noisy.
Similarly, if you have a group of children, pick an object in the room and take turns thinking of an adjective to describe it.  See which team can think of the most different ones.
Write a sentence like the second one above with simple adjectives in.  See if your child can replace the adjectives with more interesting ones.  Eg  scarlet instead of red or enormous instead of big.
Equally, it can be really useful to read books and talk about the effect adjectives have.  Ask the child to pick their favourite adjective (this is a great way of learning new words too).
Make up a short story with your child.  Think of adjectives to describe each element – the characters, setting and the time.  Describing the characters can take you into adjectives about personality which can be particularly tricky ones for children.  Is the person friendly?  Malicious?  Determined?
Go for a walk with your child and describe things you hear.  Is it quiet? Low?  Rustling?
See how many synonyms your child can think of for some common adjectives.  Big, little, happy and sad all work well for this.  EG  other words for happy might be cheerful, content, glad, ecstatic…
Put some adjectives on the sides of a dice and roll it.  See if the child can think of a range of objects which fit that adjective.  If you want to make this harder for older kids, roll two dice and see if they can think of an object that fits both adjectives – eg something shiny and cold.
There are also some nice published resources that are great for working on adjectives.  Some of my favourites are:-
Apples to Apples Junior – The Game of Crazy Comparisons!
Speak Clearly Word Families Collection – this is one of my favourite ever resources – I use it all the time!  It's not designed for working on adjectives but it is one of the many targets I have worked on with the "Link It" games – if I am focussing on adjectives, I ask them to think of an adjective that links the two items – eg they are both round, or both green or both sharp.
A couple of other thoughts about working on adjectives.  Encourage your child to think about size words and colour words to start with if they find this hard.  However, many children tend to get fixed on these, so after a while, I sometimes ban size and colour words so that they have to think of others.  Encourage them to use all 5 senses to think of a wider range of adjectives.
Also, when you do games where you generate multiple adjectives, talk about what order they go in.  For example, it doesn't sound right to say "a green big apple".  It is "a big green apple".  There are a lot of long and complicated rules about adjective order, but many kids can tell you which sounds right if you give them a choice.
What other games and activities do you use to work on adjectives?