We all struggle to talk about how we feel.  It's complicated and often difficult to find the words that most clearly express what we want to say.  This is even more difficult for children, and especially children with language difficulties.  There are so many words to describe feelings and they often have subtly different meanings which are difficult to describe succinctly.  For example, many children will know what "cross" means, but what about "frustrated" or "furious"?  They both kind of mean "cross", but would be used in very different situations.
Here are some ideas for teaching emotion vocabulary to children.  To begin with here are some ideas for working with younger children (up to 7) and teaching those basic feeling words – happy, sad, cross etc.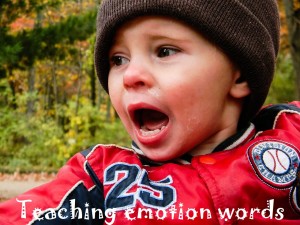 Choose just a few words to start with – I usually start with happy, sad and cross. Use them as often as possible in real-life situations to label how people are feeling.  "Look, mummy is happy" or "oh dear, that boy is sad".  Also use feeling words to talk about how the child is feeling too.  Some children don't recognise what they are feeling as being "sad" or "happy" and in order to understand these words properly they need to be able to relate the feeling to the word.
Look at pictures of people and talk about whether their faces look happy, sad or cross. You can use books and family photos to do this but also these sorts of pictures are also very easy to find on the internet.  See if your child can copy different facial expressions.  Do this in front of a mirror so that they can see what they are doing with their faces – some children find this really difficult to do!
You could make a feelings chart and get your child to say how they feel each day and why. (With older children, everyone in the family could do this and you can start to introduce the idea that not everyone feels the same way, even about the same event.  EG  your child might be excited about going to a party, but their sibling might be annoyed about having to go in the car to take them there!)
Talk about how the characters are feeling in favourite stories. This may well change at different points in the story.  Talk about what made them feel this way too.
The Black Sheep Emotions pack has some great ideas for talking about simple emotions and what makes people feel different ways.
Gradually add in more feeling words – I often do excited and scared next.
With older children, there will be a wide range of emotion words that are used around them and which they are expected to understand.  They are also expected to be able to pick up emotions by looking at people and picking up on the visual clues.  This is very confusing for many children, and it is not something that is quick or easy to teach.  These ideas are mostly related to understanding the vocabulary of feelings, but many children will also need to work on identifying how they and other people feel and managing their own feelings.
Introduce one or two new words at a time, and preferably ones with quite different meanings, so that the child doesn't get muddled up. Talk about what they mean in real-life situations as this will be much less abstract.
As with younger children, relate the words to facial expressions. Specifically talk about how people look when they are feeling different emotions – what are they doing with their mouth?  their eyes?  There are some free pictures of facial expressions for a range of emotions here (along with lots of other great resources for emotions and social skills).
With new words, see if the children can match the words to different situations where they might feel that way. Once they can match them, see if they can generate their own ideas as well.  There is a free game you can download to talk about a variety of emotion words here.
Get a selection of words and see if the children can sort them out into which words have similar meanings – eg does frightened go with scared or excited?  There is a lovely activity which does this in the Black Sheep Practical Pragmatics pack.
Take a simple emotion word such as "happy". Get your child (or this works really well in a group) to think of as many other words as they can that mean happy – eg glad, pleased, ecstatic etc.  Then get them to put them in order IE which one means more happy – glad or ecstatic?  Get two children or two groups to do this and see if they come up with the same answers.  I've seen lovely pictures on Pinterest of activities where people have done this with paint charts, getting children to write the words on different gradations of the same colour as they become stronger in meaning.  There is also an emotion colour wheel which helps to group feelings on the Do2Learn website.
Talk about how characters feel throughout favourite stories. Why do they feel that way?  Do their feelings change?  Why?
Pick out feeling words in a book that you're reading and see if the child can think of another word to put in place of that one.
Return to new words that your child has learned. EG if your child has just learnt the word "bewildered", look for everyday situations where you can use that word.  You could even make this into a game and make it into a "word of the week" in your house or classroom.  See how many times someone can use the word in an appropriate context.  "EG I'm bewildered by this homework" or "What are we doing tomorrow?  I'm feeling a bit bewildered".
What other activities do you use to teach emotion vocabulary?