Our latest column for Special Needs Jungle was published yesterday, and it's a topic I think will interest a lot of people.  Do your children tell you about what has happened at school?  Most don't really.  It can be even more challenging to get any information if your child has language difficulties.  There are some ideas about how to talk to your child about their school day in this post.  Click on the picture to read the post.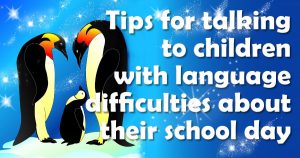 This will be our last post before Christmas, as we're both taking a break to spend time with our families.  Do keep checking out our Facebook and Twitter accounts though, where we have some great content due to go out over the Christmas holidays, as always.
Have a fantastic Christmas and New Year and we will see you in January!