When I was a newly qualified therapist, there was so much to think about whenever I assessed a child – which assessment to use, transcribing speech correctly, asking the right questions in the case history, making the right decision about what to do next!…  But there is one aspect of doing an assessment which is really important although it's easy to overlook it – building a rapport with the child.
However short you are on time, it's always really important to take the time to make the child feel relaxed and at ease.  This is also probably the best possible way to ensure that the parent feels relaxed and at ease too!  Building rapport is something that it's hard to make rules about – to an extent, you just need to be good at reading people and working out what they need.  However, here are some of the things that I find can help.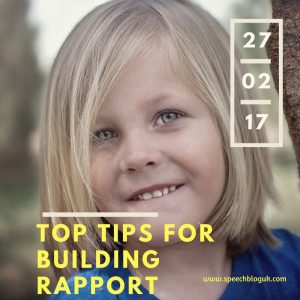 Say hello to the child.  It's a simple thing but it makes a big difference.  I usually greet the parent first, but then I always turn to the child, smile and say hello!  It lets them know that I'm friendly, and that I'm interested in talking to them as well as their parent.  Some kids will say hi back, others ignore me or hide behind their parent, occasionally they scowl or even scream!  But whatever the reaction, it helps me to know how to approach them next!
Offer them a choice of toys.  When I worked in a clinic, I would usually get a range of age appropriate toys out before the appointment started and have them out on the floor for the child to choose from.  Now, I am usually arriving at someone's house.  They may already have something out that they are playing with, which is fine.  However, very often they are very interested in my enormous therapy bag and what might be inside it!  Often, the first thing I do is to get a few things out and let them choose one that they would like to play with while I'm chatting to their parent.  Hopefully this gives the message that I'm there to have fun!
Don't ask too many questions, just play!  Now, this seems like a strange thing to say.  Of course I'm not going to get too far with an assessment if I'm not going to ask any questions at all!  It's part of the territory with assessments!  However, in those first few minutes, when I'm just trying to put the child at ease, I try not too ask too many questions.  Sometimes I just play with the child, pretty much silently for a few minutes.  Other times I will comment on what we're doing or make sounds related to what we're playing with (animal noises etc).  Sometimes I can be louder and more animated – it really depends on the child.  With an older child, I chat a bit more, and I am more likely to ask questions, but I try to start with something they're interested in – maybe playing a game such as Connect 4 or getting them to show me a favourite book or a magazine on their favourite topic.  One thing is for certain though, I focus on play and just getting to know them to start with, not speech! (As an added bonus, play tells me lots about speech and language too!)
Praise.  This is true all the time with children, but it's especially important in that initial assessment appointment.  Did the child attempt something you wanted them to attempt?  That's huge! – praise them for trying even if it was only for a short time.  They're much more likely to be willing to try again if they feel that their best was good enough for you.
Bribe!  I'm not above a little bribery in assessment sessions, especially when a child is struggling to get through a formal assessment I want to complete or reluctant to attempt it!  Bubbles and stickers are my favourite bribes but this will also depend on the child.  The iPad sometimes works well.  Sometimes the child has found a game in my bag that they really want to play.  Whatever it is, knowing that they are going to get it certainly helps me to build rapport with the child!  (I find that parents are often great with bribes too to help a child to stay focussed – I work with several children who are promised a biscuit or some chocolate buttons at the end of my session!)  Don't forget to let the child have whatever you have bribed them with though – I have made that mistake before!
What are your favourite tricks for building rapport with the children you work with?  If you are a parent, what have you seen professionals do that has worked well with your child?