The summer holidays have already arrived for some, and for others are only a day or so away – HOORAY!  One thing many parents have asked me this week is how can we keep working on speech and language skills over the 6 week break?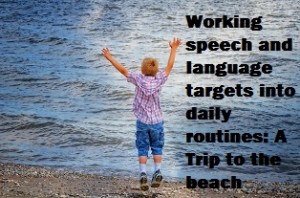 So we thought we would continue with our series – how to work speech and language targets into daily routines, and today we are talking about the beach.  I know that can sometimes prove chilly and/ or windy in this country, but there are still lots of things you can do!
Time: Many children struggle with the concept of time and how long it is until something exciting happens.  So if you are planning a holiday or a few day trips out, you could try getting a calendar and writing or drawing on what you have planned.  Then each day, with your child, you can cross off a day and count how many more there are to go. Try and use time words such as tomorrow, next week etc as you talk about it.
Organisation and Planning: This is another key issue for many children. Rather than packing the bags when everyone is in bed the night before, try getting your children involved!  You can think about what you might need at the beach?  What if we want to go in the water and get wet?  What if it's really sunny? (it can happen!) Are you going to take a picnic or buy food there?  This is a great way to encourage logical thinking and planning skills.
Attention and listening: You really can incorporate a ready, steady, go game into any environment!  It could be running to the sea and back again, or filling up a bucket with sand.  Encourage your children to wait for the 'go' before they start.  You could make this harder by giving them places to run to, so you would say 'ready, steady……sea' (or towel or pier). In this way they have to listen to the whole instruction to find out where to go.
Auditory memory: Set them challenges – a little like a scavenger hunt.  Can they go and find you a shell and some seaweed?  This way they have to retain and remember the items whilst they look for them. You can extend this by asking for 3 or 4 items.
Vocabulary: Anywhere new provides a great opportunity to enrich language and vocabulary.  For a younger child it might be the word 'crab', but for an older child it might be invertebrate or carapace.  Try and use the target word as many times as you can on the day. Look at it, talk about it, think about what the first sound is, how many syllables it has – this will help your child learn the word.  Also remember to talk about it after the trip and a week later and at the end of the holidays – recapping and repeating are really important as well.
Speech sounds: Now the beach does lend itself well to the /s/ sound e.g. sand, sky, sea, seaweed etc. But you can always work in other target sounds as well.  Even with a little bribery – can they say 5 of their practise words/ sounds and then they can have an ice cream!
Verbs: There are lots of things to do at the beach: building, running, jumping, squashing, splashing, catching.  Talk about what your child is doing.
You could also work on the concepts of hot and cold if you are brave enough to go in the British sea!  Whatever you do this summer we hope you have a great time.
If you found this useful have a look at our other post – working speech and language targets into daily routines: A trip to the park.