With Christmas only 31 days away (eek!), we thought we would start getting in the Christmas spirit with a Christmas toy review!  Orchard Toys very kindly sent us a copy of their new game – Christmas Surprises
 to review.  Although I was provided with a free copy of the game, the review and opinions are my own.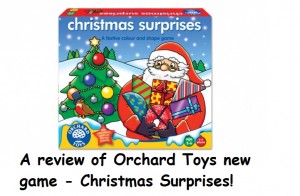 This game is designed for children between the ages of 3-6 years old (although it amused my 7 year old for a good half hour!) and you need 2-4 players. There are 2 games included.  In one you have to help Father Christmas collect lots of different presents to go in his sack – this is a shape recognition/matching/naming game.  In the other you have to help decorate a Christmas tree with lots of different coloured baubles – this is a colour recognition/matching/naming game.  In both you roll a dice, find the matching shape or colour and put it on your board.  The winner is the first person to fill up their board.
Helen and I both LOVE Orchard Toys games.  They are always well made, durable and have fantastic pictures!  Every child I work with also enjoys them and chooses them first when they see them in my therapy bag!  So how else have I used this game?
I have found the 'present' game really useful.  The actual present cards are double sided and have beautiful wrapping paper on one side and a toy on the other.  There are different styles of wrapping paper and a great range of toys.  I have used this game a few times to practise adjectives – is the wrapping paper stripy or is the bow shiny?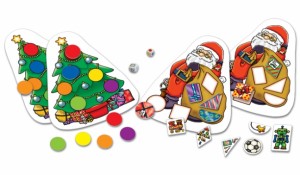 I used it with an older child and rather then just naming the 2d shape e.g. square or triangle, we also had to remember the 3d shape name e.g. cube or pyramid.  That one made me think too!
The toys on the presents are beautiful and there is a good range.  I have used this to support vocabulary development – there are easier ones such as ball and duck, but also harder items such as roller skates, skipping rope and kite.
With one child, it led in beautifully to a conversation about likes and dislikes and the idea that we all like different things.  One young man was very insistent that he liked the robot and wanted one for Christmas!
The colour game is lovely, but I must admit so far I have only used it to practise colour vocabulary! Still very useful though.
So, another lovely game from Orchard Toys! It is currently priced at £9.50 and is in the shops now.  Great if you want some early Christmas vocabulary practise!!