As Elizabeth mentioned earlier in the week, we have been sent some lovely stuff to review.  Our giveaway for the Key Verbs app is still open for a few more days – we have 6 copies to give away!  Do click the link to read the review and enter the giveaway!
Today, I'm going to review two more great games from Orchard Toys.  We talk about their games a lot here, as they are great fun, educational and versatile.  What more could you want?
Frog Party
The aim of this game is counting and adding numbers up to 10.  If you happen to have a child in their first year at school (as I do!) it's a great game to use just as it is to practise these skills in a fun way.  However, this is a speech therapy blog, not a Maths blog, so here are some ideas of how to target language skills while you're playing this game!
Counting is great for many speech sounds, but particularly "f" and "s".  I often play a game that needs lots of counting when we've worked on these sounds for a little while and I want the child to be able to start using them without me reminding them.  Counting is a great first step with this as it's predictable and repetitive and the same words occur over and over again giving you lots of opportunities to practise!
This game is great for helping children to understand the concepts of more and less.  There are several different ways that you can add numbers in this game – you can add using lily pad counters or with a number line, or just in your head.  The counters in particular are a nice visual way of showing which is more.  Talk about which pile has more lily pads in it and which has less.
There are some great pictures to describe as well.  The panel in the middle has lots of lovely verb pictures (playing a drum, posting a letter, giving a present etc).  My daughter had lots to say about these pictures, guessing what was inside the presents and talking about what they were all wearing!  There are also various pictures to talk about throughout the game itself.
Match and Spell
This game is an early spelling game, but it has various possibilities for speech and language word too!  First of all, let me explain how to play, according to the rules.  There are double-sided cards for 3 and 4 letter words and letter cards to spell the words out with.  One side of the cards has the word spelt out so that children can just match the letters and the other side has blank spaces so that they can spell the word out themselves.  Players take turns to find a letter to go with their card.  This is a simple but effective idea and there are various ways to alter the level – you could reduce the number of letters or give the child part of the word and get them to find the rest for example.  Here are some other ideas of how to use this game.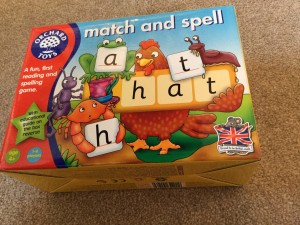 This game has lots of possibilities for working on phonological awareness.  It is a nice visual way of seeing how many sounds are in a word and practising breaking them down.  You don't have to target the whole word, you could use all the cards and get the child to identify the first or last sound.  You could give them a choice of just two letters to choose from to make it easier if you need to.
You could also talk about rhyme.  3 rhyming words are included (cat, hat and rat).  You could use these three to talk about rhyme and then add other letters at the beginning to see what rhymes you can make. You could use the three or four squares on the cards and see if the child can think of words which rhyme.  Put a counter on a square for each word they can think of and see if you can fill the cards up.
Similarly, you could use this as a description game.  Give the child counters and see if they can say 3 or 4 things about the picture to describe it and earn a counter for each one.  EG "It's pink.  It lives on a farm.  It says oink." You could make this into a guessing game if you were playing with several children and see if they can guess each other's pictures.
All in all, two more great games from Orchard Toys.  Watch out for another Orchard Toys review next week.