We do hope everyone enjoyed the Easter break and didn't eat too many chocolate eggs!  Helen and I have been very lucky and have been given some apps and resources to review, so keep you eyes peeled over the next two weeks and we will let you know what we think of them!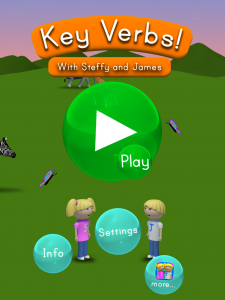 Today, I am reviewing Key Verbs – with Steffy and James by Language and Learning Steps.  These are same people that made the absolutely fantastic Key Words Kids – which is still one of my most used apps.  You can read our review of Key Word Kids here.
Key Verbs is a simpler app just looking at supporting verbs.  This is reflected in the price – currently £1.49, whereas Key Word Kids is currently around £17.00.  Both apps have the same simple and bright graphics and user friendly interface.  You also get a motivator/ reward game after answering a set number of questions correctly.
The game has two modes – Learn and test.  In the 'Learn' section you pick a verb and then see it being demonstrated.  I like the way they use both a girl and boy, but also a teddy and animals to show the verbs. This leads to some slightly different verbs such as 'miowed'!  After the verb has been demonstrated, the character stops moving and the verb is then put into the past tense.  There is enough time to talk about the action as it happens to support both comprehension and expression.  After you have completed a number of examples, you can select a motivator/ reward game.  The paint splat one has been very popular although I have had to remind a few children to use gentle fingers on my poor iPad!!  In the test mode, you select a verb and then see the verb happen.  You are then asked 'what did they do?' before being shown the verb in the past tense.  You have time to talk about the verb and then have to press the green button before you get the answer.
This is a lovely simple app to really show what the verbs mean.  There is a good range of verbs used.  I also like the graphics and the animations for the verbs.  I have successfully used this with children ranging in age from 3 – 7.  I think after this age you either need more control over the verb selection or the child might find the graphics too young.  I have mainly used the app for teaching verbs and encouraged the children to copy the actions as well as name them.  I have also used it a little for teaching past tense.  The only thing I would love to see is the ability to select the verbs or group them, so you had control over which verbs you were teaching and also if they could be grouped into regular and irregular past tense.  However I fully acknowledge this is a much cheaper app at £1.49 and that is maybe why you don't have as many settings!
So, are you interested?  Well Helen and I have very kindly been given some copies to give away by Language and Learning Steps.  These will be for apple devices only.  We are also trying something new….  So fingers crossed you should see a link for a rafflecopter below to enter!  If not then please let us know!!