Helen and I are starting a new series of posts about how to support children with speech and language or special needs.  We talk about the types of modifications that can make a real difference for these children and hopefully for the adults as well!  You can read about how to support children in school plays here and how to support children in exams here.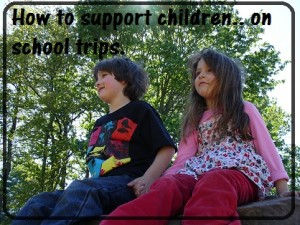 School trips….. the excitement, the squashed packed lunches,  the lost jumpers and the sick bags on the coach!  I think teachers are very brave taking large numbers of other people's children out on school trips.  I have helped out on a number of trips and spend the whole time counting and re-counting the children to make sure I haven't lost someone.  Safe to say – I haven't lost a child yet!
The other involvement I have had with school trips is going through risk assessments and making up visual resources so all the children in the class can be included.  Spending time working with parents, teachers or TA's is always time well spent and can make the day run a little more smoothly!  So what preparation can you do to help support children with special needs access and enjoy school trips:-
The first question is a tricky one.  Is it safe? The majority of the time, with some modifications the answer will be yes.  But there are a small number of occasions when the answer may be no.  It is vital to have a meeting with parents, teachers and support staff – everyone who knows the child well, to make this decision.  If safety on the coach is a concern, could one of the parents come on the coach or drive the child to the event?  If there is an aspect of the trip that the child would find upsetting e.g. dark room, loud noises etc, could they miss that bit out?  This is where good knowledge of what is going to happen throughout the trip is vital.  However, sometimes it may be safer for the child not to attend.  Now this sounds horrible and not at all inclusive, but there are always exceptions. For example, I was working with a young lady with significant needs, who greatly disliked change, dark rooms and loud noises.  So at Christmas time when we thought about the pantomime trip, her parents actually asked if she could not attend as it would have been very upsetting for her.  We did discuss what alterations we could make so she could attend, but actually for her it was better not to attend.
Coping with change.  If you are supporting a child who finds changes to their routine hard, you could start talking about the trip a few weeks before it happens.  You could get a calendar and mark off the day's counting down to the day of the trip.  As well as talking about it and what they might do, try and get pictures – see if there is a website you could look at with the child, or see if anyone has been before and has photos.  If appropriate, talk about what activities you might do on the trip (but don't promise anything in case it doesn't happen!)  Now for some children this could make their anxiety worse – you know the child best, so only do what is appropriate for them.
Worries.  I have supported children before who refuse to go on trips.  But when you really talk through their concerns, it may just be one aspect that is worrying them – maybe they have never been there before, they are scared of buses, they want to sit with a certain friend etc.  Often in these cases you can talk through concerns or make agreements with the child to help ease their concerns.
Vocabulary.  Our favourite topic!  If you know you are going to visit an Iron Age settlement, for example, and have been learning about them in class, spend time pre-teaching some of the vocabulary, so the child can use it on the day.  This is a great one for parents to get involved with as well, then after the trip you can use some of the words to support your child telling you about the trip.
On the day.  If you have a younger child, or a less verbal child who is used to using visuals – either individual pictures or strips – take them with you!  Have a pre-laminated timetable for the day; keep your stop cards at hand.  These are methods you know work, so take them with you even if it means some preparation and laminating.  I was supporting one young man, who had very limited understanding or use of language, but he understood visual timetables.  So we made up new pictures for the day – a bus, a park etc. Although these were new pictures, because we put them on his timetable, he followed it and got on the bus without getting worried.
Making predictions and expressing ideas.  Trips are normally motivating and you can use them to work on harder, higher level language skills (if appropriate for the child). Get them to make predictions about what they might see or do or how long the journey will last.  Then after the trip you can get them to give opinions – what was their favourite bit and why? Can they remember 2 new things that they learnt on the trip?  You may need to give your answers first to show them what sort of answers you are expecting as these are tricky questions!
Take pictures of the child completing activities.  Then when you get back you can use these to help recount and sequence events or support the target vocabulary you are working on.  If possible send some home so parents can do the same.  Repetition is always important.
Have fun!  Try and enjoy the experience and get involved in the excitement (in between the head counts to ensure you haven't lost anyone).  You are much more likely to get some fantastic language from the children when they recount new or novel experiences. So look out for funny things or new items and get the children involved.