Children can have speech sound problems for all sorts of reasons.  Sometimes these can be resolved fairly quickly, but for others, they need speech therapy over a very long period of time.  One cause of severe speech sound problems is verbal dyspraxia (known in most other countries as Childhood Apraxia of Speech).  It's a diagnosis that most people haven't heard of, but it affects many, many children.  We recently came across this Facebook page, where Louisa Akers and her son Mikey are trying to raise awareness of verbal dyspraxia.  We asked if we could reproduce some of their content here to help get the message out to more people.  Louisa writes:-
"From a very early age I knew that Mikey's speech wasn't where it should be. He had an older sister, who I compared him to and I worked in a nursery so had a very good knowledge of where his speech should be. I know you shouldn't compare but how else can you judge?

We were very lucky as we managed to get an early diagnoses. My daughter Becki, who was 4 at the time was just having a review with the speech therapist and I voiced my concerns about Mikey. There and then she did some tests on his speech and referred us to another speech therapist, who I later discovered specialised in verbal dyspraxia.
I remember being given Mikey's diagnosis so clearly and I cried for more than a day. It was like I was mourning the fact that I had lost my 'perfect' child. (If only I knew then what I know now! Mikey is perfect in every way in my eyes).
It's so hard watching your child struggle to be understood by everyone, even by some of his closest family members. But Mikey never once complained.
Years of intense speech therapy began and the improvement with Mikey's speech was incredibly slow. But Mikey just seemed to get on with it and accept that this was what he had to do week after week and day after day. He was 9 before people outside the family could understand most of what he was saying. (That's if he even spoke).
We sent him to a mainstream primary school and fought to get him a statement for additional help. He fitted in really well and was very popular with his peers. He just wanted to fit in. I remember one parents evening, when he was in year 2, seeing a page and a half of his writing and it was just ' cha chee the cha cha chee the Che chat chee' all the way down. This is because he knew he should be writing and he just wanted to be like his peers. We have since sat together and looked at this writing and laughed until the tears were rolling down our cheeks. (He has a great sense of humour and can laugh at himself). He did ok at primary school but when it came to secondary school we decided to send him to one with a learning support unit attached as it was the best thing for his education. He seemed to be settling in well. Little did I know that he was hiding it from me as he didn't want to hurt my feelings. It all came tumbling out 7 months after he started at the senior school. He felt different, lost, didn't like to talk to any new people as he knew his voice sounded different or he couldn't find the words. The school were fantastic and put strategies into place to help him meet people and make friends.  He now has an amazing bunch of friends and knows he is to tell me immediately if something is upsetting him.
I wouldn't change a thing about Mikey.  Yes, I have watched him struggle through his life, but this struggle has turned him into a determined, compassionate, understanding and amazing young man.  As a family we spent 11 years just accepting that no one you spoke to had heard of, or even knew, what verbal dyspraxia was.  It was only when Mikey, at the age of 13, wrote his poem 'I Am the Boy' about how he felt living with Verbal Dyspraxia and wanting more awareness that we as a family decided to do all we could to make 'Mikey's Wish' happen.
Mikey wants more people to hear about and understand what it's like living with verbal dyspraxia and finding it hard to communicate on a daily basis, not just for himself but everyone that this condition touches.
I Am the Boy
I am the boy who has so much to say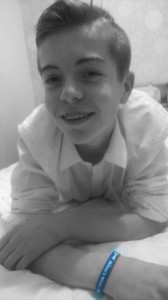 I am the boy who says it my way
Not always proper, not always right
With my brain I must put up a fight
The words don't come easy, they hide away
When I find them some sounds go astray
It's not 'cos I'm stupid, it's 'cos I am me
I am the boy with verbal dyspraxia, you see
I have one desire, I have one wish
And that is that there was more awareness of this.
We have now set up Mikey's Wish – Verbal Dyspraxia Awareness to raise funds and bring attention to this hidden condition. We have merchandise, including bags, mugs, mouse mats, awareness t-shirts and wristbands, all available by finding us on Facebook ."
Do visit their Facebook page where you can find out more.  For more information on verbal dyspraxia or Childhood Apraxia of Speech, please visit Apraxia-kids, Afasic or ASHA.  I also recently bought this book which seems to be a very good parent guide – look back here for a full review another day!  The author also has a blog here.