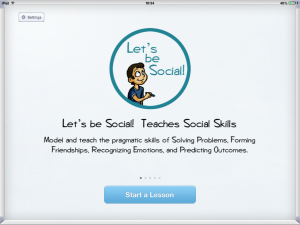 Today's post is a review of the app "Let's Be Social" by My Everyday Speech.  This app is available for iPad only and usually retails for £9.99, but it's currently on sale until the end of April for £6.99.
As the title suggests, this app is for working on social skills.  The format is of short social stories, with questions about each, relating to the story and the skill that is being targetted.  When you open up the app, you see this screen.
As you can see, the stories are sorted into categories – Personal Interactions, Navigating the Community, School Behaviour, Handling Change and Social Behaviours.  Each category has a variety of stories already loaded up.  You can see a couple of examples here:-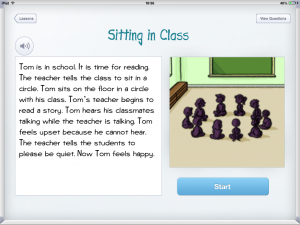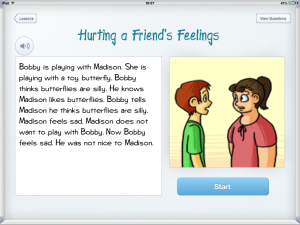 The stories cover a range of skills which children can often struggle with such as lining up, personal space, giving eye contact, taking turns in conversation, dealing with transitions and disappointments, as well as how to behave in different places (playground, cinema, doctor's etc).  You can read the story with the child, or you can listen to the pre-recorded story.  I personally haven't used this option as I find the voice difficult to listen to (this may not be the same in the US, but it sounds to me like the voice that reads aloud text messages when you've accidentally sent them to a landline instead of a mobile).  However, this is not really a problem, as I would probably read the story myself anyway, so that we could talk about it more easily.
Once you have read and talked about the story, there is a series of multiple-choice questions already loaded up.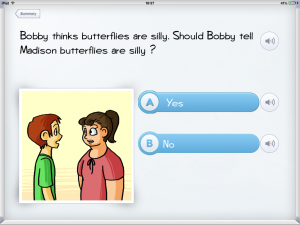 There are a few questions for each one, but the lovely thing about this app is how customisable it is.  You can add your own questions for any of the stories, or delete the ones that are there.  You can add stories and even whole categories of your own, and you can add photos of the particular child you are working with.  It's really easy to do, but there's also a YouTube video here which shows you exactly how to do it.
This would be a great app for a TA or parent to create social stories specific to certain behaviours, as you can quickly and easily write a relevant story, add in a photo and develop a set of questions relevant for a particular child.  Of course, being able to answer questions about particular social skills is just one step along the road towards being able to actually use the skill appropriately, but it's an important step, and one that this app would be really helpful with.
Best thing about this app:-
It is highly customisable with the ability to add your own categories, stories, pictures and questions easily.
Suggestions for the future:-
A different voice to read the stories and questions.
Video content would also be an added bonus.