Helen and I have been very lucky recently and have been sent some fantastic products to review – It's a hard life being a blogger!  Lucy Sanctuary very kindly sent us some examples from her speech resources books plus some soon to be published examples.
You can find Lucy's current 3 work books, "Playing with S", "Playing with P" and Playing with K" through the Speechmark website and I have also seen them recently through amazon.  I was also lucky enough to have a sneak peek at some of the sections from Lucy's new resource book – "Games with F", which will be published soon.
The work books are designed to help Nursery Practitioners, School Staff and Speech and Language Therapists and give examples of games and activities to practice the target sound. Now, I have been working for over 10 years and there were ideas in here that I hadn't thought of and have used since in my therapy – so there really is something in here for everyone. Each work book is divided up into sections to support normal sound development, starting with the target sound in isolation then moving onto words, then longer words, short phrases and stories.
I really like the layout; the sections start with "General Advice". This is well written and accessible.  As a therapist I love finding resources that are ready to go and I know I can give out to parents and staff – and this is! Then you find a fantastic list of creative games and activities, again with good clear instructions. You are given an aim for each activity, told how to do it and what you need.  I also like the way each activity has been classified as a listening (auditory discrimination) or speaking (production) task – or both.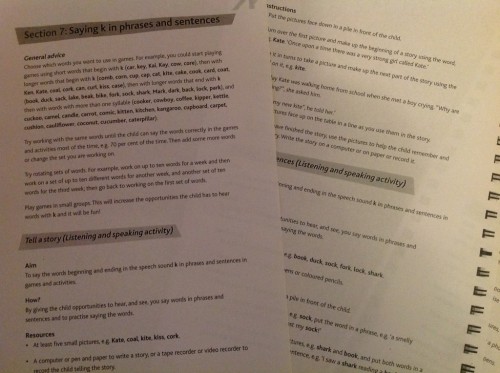 In the "K" work book I love the "Would you rather….?" game. The aim is to target production of "K" in a word at sentence level.  Lucy has provided cards with great scenarios on – e.g. "Would you rather feed a shark or a duck? Why?" or "Would you rather eat a caterpillar or a cauliflower? Why?". I love this!  The child I used it with thought it was hysterical and there was lots of giggling.  He also managed to remember his "K" sound and use it at sentence level with the odd reminder.  We also had some great discussions about the scenarios which supported his language targets as well.  Another lovely idea is saying the target words but with a different emotion e.g. saying the word happily, sadly or excitedly.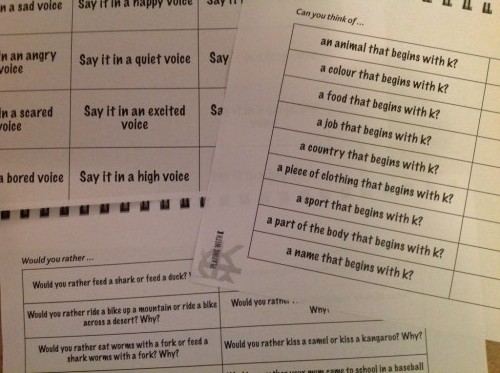 In the "Playing with F" work book there are some great introductory pages about the resource, who it's for, why you don't need to be an SLT to follow it and how to use the resource in school and at home.  It also gives statistics and percentages (all referenced – well done Lucy!) about normal speech development and errors.  This is invaluable to school and SLT's.
These work books are very well thought through and presented.  They will be useful to nursery and school staff, parents and SLT's.  From my point of view as a therapist, they are well written and you could give out individual chapters or sections as homework, saving us time. My only slight criticism is the black and white images.  The images themselves are lovely, but I personally prefer to use colour pictures.  However I fully acknowledge that this is a printing issue as colour images are more expensive to print and produce.  The work books are currently on sale for £39.99 each.  I think this is a fair price for the work that has gone into them.  The "Playing with S" book has 302 pages! Why not go and have a look.