A few weeks ago, I was fortunate enough to be sent a free copy of the app Phonics Spelling Dictionary by Skoodal/ Therapy Box.  I was sent a copy of the app for free, but the opinions contained within this review are my own.
This app features Biff, Chip and Kipper, who will be familiar to anyone who has a child who has been through infant school in the last few years – they are the main characters in the Oxford Reading Tree books which are widely used in primary schools in England (and possibly other parts of the UK).  I was keen to try this app, as, not only do I work with children who may find it useful, but I also have a daughter who has just started Year 2.  Therefore, we are very familiar with Biff, Chip and Kipper in this house!
As the title suggests, Phonics Dictionary is a dictionary.  It is based on sound rather than spelling, in line with synthetic phonics teaching, and that also makes it useful for speech therapists too.  The different sounds appear on the right hand side of the screen and when you click on one of them, it will say the sound for you to hear and show you all the different ways that it can be spelt, with examples.  They are not sorted alphabetically, but rather, in the order that they are generally taught in phonics at school.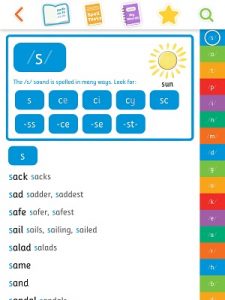 You can press on a word and it will be read aloud to you.  This makes it very user-friendly for kids.  My favourite bit of the app is the search facility.  This connects to the microphone on your device, so that you can say a word into it and it will tell you how to spell it.  I tried this with words not contained in the dictionary and it still worked, which is really useful.  There is a page of high frequency words and also a "My Words" page where you can save extra words if you want to remember how to spell them.
In addition, the app has a spelling test function to practise the words (I thought even the easy level was quite hard however).
The app is designed to work on spelling and literacy skills and these are not things that I often work on directly as a speech and language therapist.  However, I can see that it may be very useful for lots of the children I work with, who can also need support with literacy skills.  One word of caution however, the voice recognition software does not often recognise words if there are errors in the way that they are said, so that part may not be quite so useful if your child has a speech sound disorder.  However, the other elements of it would still be useful, especially being able to listen to the app say certain words for you as well as seeing the spelling.
There are many great things about this app:-
It connects beautifully with literacy teaching in English schools (I can't comment on how it is taught in other countries).
Because it is made by a British company, it has a British accent which many apps do not.
The ability to say words into it and search for the spelling is really useful.
It is comprehensive and versatile, in having a bank of stored words as well as letting you store your own.
The spelling test function is good for giving children a bit of extra practise in a fun way.
Also, one final bonus I discovered – this app was a fantastic place to find words with a particular vowel sound in when I was looking for them the other day!
I do recommend this app for parents and teachers.  You can buy it on the App Store for £4:99.
The great news is that Therapy Box have very kindly given us 10 app codes to give away!!  We have 5 iOS codes and 5 Android ones.  If you would like one, comment on this blog post or on the thread on Facebook and tell us whether you want an iOS or an Android code.  We will draw winners next week!