A while ago, Elizabeth and I were contacted by Special iApps to ask if we would review their apps.  Even more generously, they are offering 2 of each of their apps as a giveaway here.  I received a copy of the app for free, but the views are my own.
Special iApps is a non-profit social enterprise set up by parents of children with SEN, and they have made a range of apps to support early learning and language.  Elizabeth reviewed the Special Words app a few weeks ago.  You can find out more about this app here and read the review here.  The app I'm going to talk about today is called Special Stories.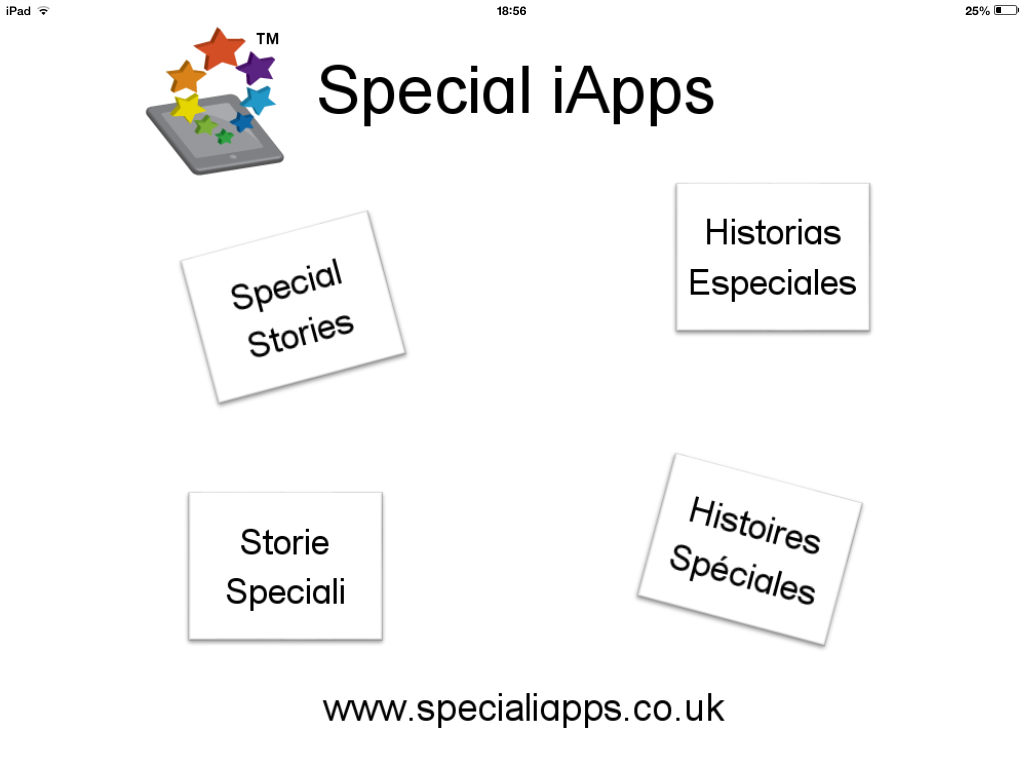 This is a great versatile app that you can use to build simple photo stories.  There's a very simple guide which shows you exactly how it works, so it was really quick to work out how to use it.
When you open the app up, it brings up a list of all the stories you've made so far that you can use or edit.  When you want to build a new story you just click the + at the top and you can add a new story (or a new page to an existing story).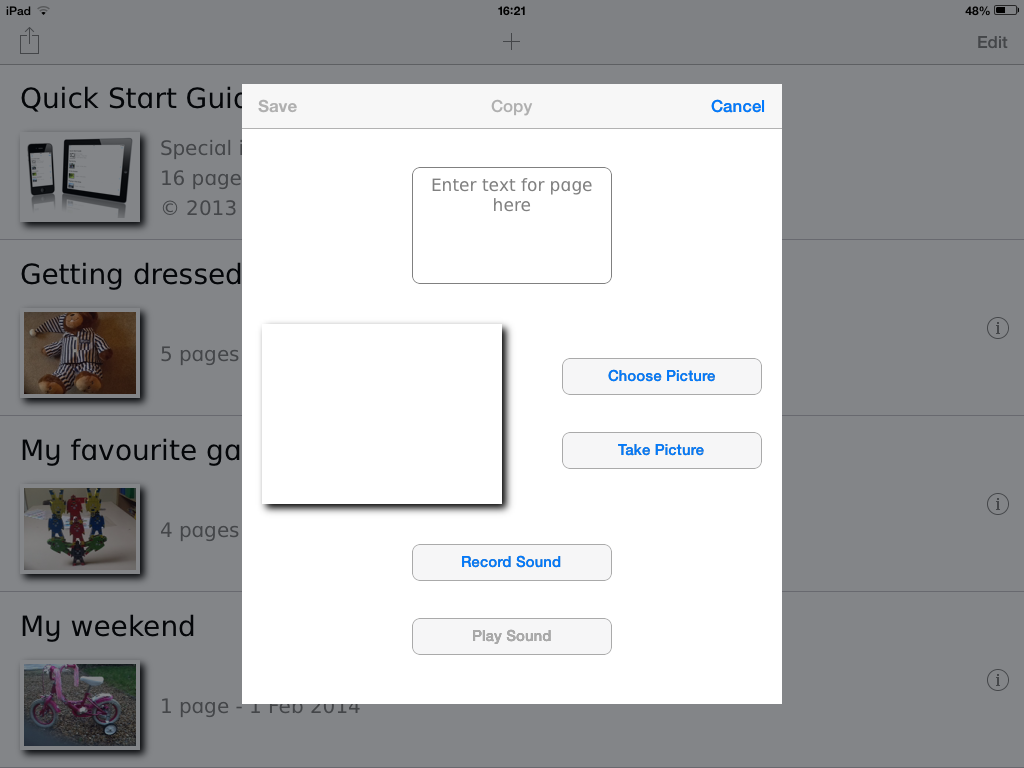 You type in a title and then you can add any photo from your photo library or take one there and then.  So if you're using it out and about to make a record of a trip or want to use photos of a child's favourite toy, you can do that.  It is really quick to add a photo, just take it and click "use".  After you've confirmed the photo, you need to record sound to go with it.  You can record any verbal message you like to go with the page – so you can just read the title aloud or put a different verbal message on.  Once you've completed your page, just save it and move on to the next one.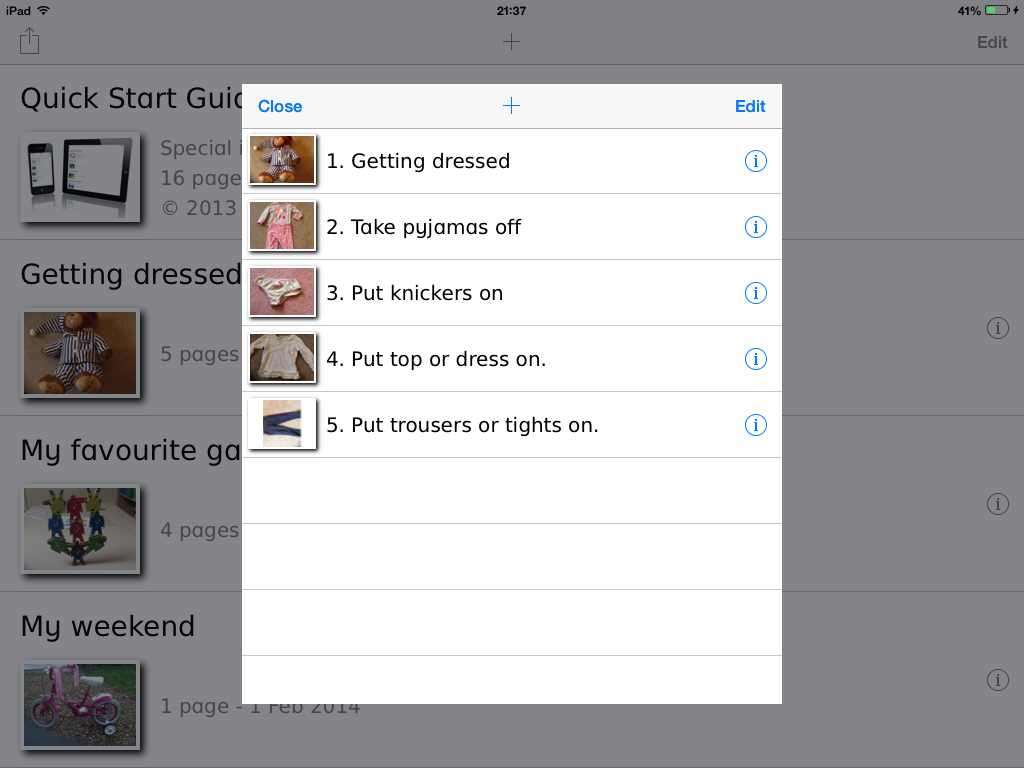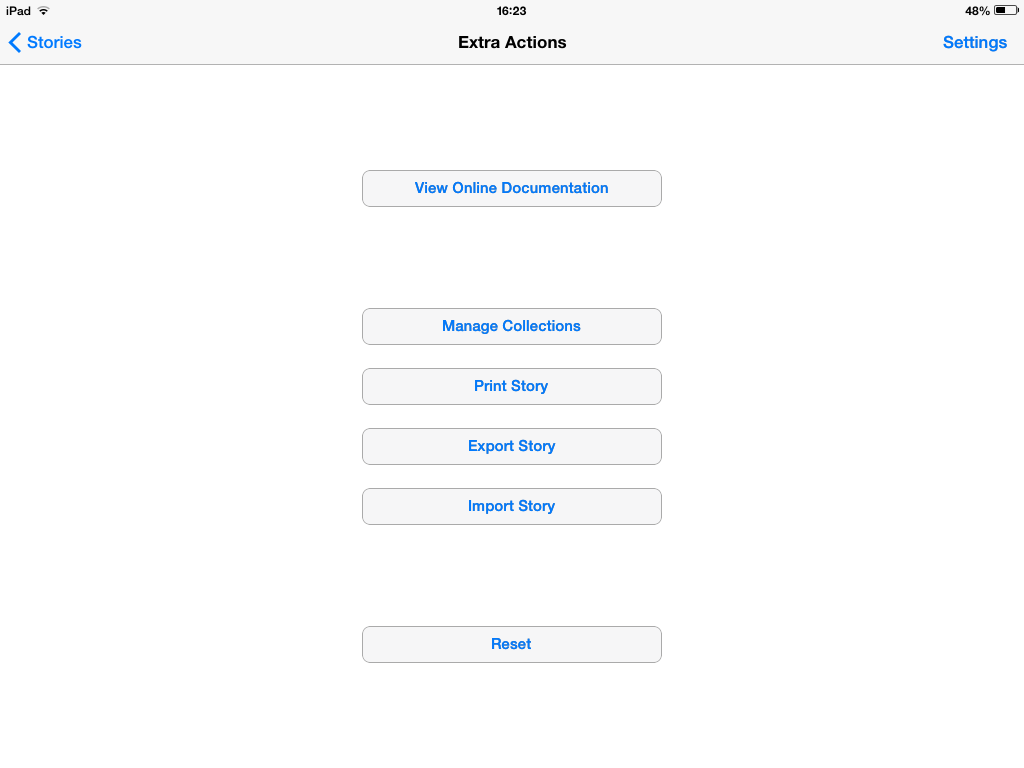 You can import and export stories to other devices with the app, which makes it great for sharing between home and school, for example.  There are lots of settings you can alter – for example, you can automatically slide through the pages, or wait until someone clicks or taps the page to move on.  You can lock editing so that it can't accidentally be recorded over too if you want to.  The only setting I've wanted to change and can't (I don't think) is to switch the voice off so that the child I'm working with can retell the story in their own words.  However, this is easily solved by flicking the mute button on my iPad!
The main thing that I love about this app is how versatile it is.  There are so many ways that you could use it.  Here are a few ideas:-
It would be a great way for a child with limited speech to share news between home and school.  They can make a photo story of their weekend or their day at school and share it with others.
You could use it to make personalised social stories – take real life photos of the situation and it can be ready to go in a couple of minutes – no cutting or laminating required!
You could also use it to make step by step instructions of how to complete a task.  For example, I've made one to help a child remember the sequence of getting dressed.
It would be great to use it to make a communication passport for a child with limited language who is going into a new situation.  You could make pages about their likes and dislikes, how they communicate etc.  As long as the child has the iPad, the communication passport is always there to be used.
With the sound off, it would also be great to use with children who are putting simple sentences together to help them to retell stories or things that have happened.  They could listen to the story they have made a few times, and then try telling it again.  They could even record themselves describing each page.
What other ideas can you think of?  Do let us know how you have used this app or how you would like to.
This app is currently priced at £9:99, which seems is a great price for such a versatile app.  However, Special iApps have very kindly offered us 2 copies to giveaway.  So if you would like a copy of this app, please leave a comment on this post.  We will pick two winners next Monday (10th February).