Last year we published a list of 20 stocking fillers to help support speech and language development.  You can find that list here.  Here is an updated list for this year – some of the same ideas and some different ones too.  Most of these are for younger children (under about 6) but many of them may be good for older children too (my 8 year old for example, still loves stickers and finger puppets!) and the last 5 are aimed at older children.  I have tried to keep all of these items both small in size and inexpensive as that's my definition of a stocking filler!  Almost all of these items cost less than £5.  This post contains Amazon affiliate links.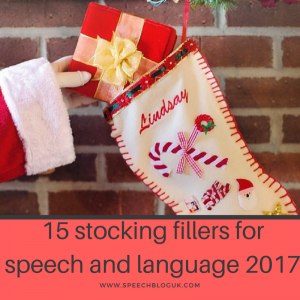 Echo mike.  These are toy plastic microphones that you speak into and they make your voice sound strange.  I often try these with young children who are slow to talk.  Some are totally unimpressed but others love it and will try making different sounds into it.
 2.  Finger puppets.  Versatile toys are great for language.  With finger puppets your child can pretend to be a range of different characters.  Choose some that fit with their interests.  Here are some Christmas ones, or click the link below to find some superhero finger puppets.
3.  
Play doh and cutters.  You can find out about how to use play doh to work on language in this post.  This is the set of cutters I have – they are not the strongest ones in the world, but I think they're great for the price!
4.  Fridge magnets.  We have lots of magnets on our fridge and my daughter will sometimes play with them while she's in the kitchen harassing me while I'm trying to make dinner!  There are some lovely more expensive sets of these for children, but this set seems like a good starter.  As well as naming the animals, you can talk about colours and where they are using on, under, next to etc.
5.  Musical instruments.  These are great for making sounds, playing around with and copying rhythms and just generally having fun.  This is a set of bath flutes as loads of kids love playing in water too.
 6.  Toy animals.  These are great for developing imaginative play and language skills.  Find out more about how to use toy animals to support language development here.  Dinosaurs like these also work just as well!
7.  Stampers.  I use a set like this in therapy very frequently.  Usually I just use it as a motivator (many kids just love stamping things on paper!) but they are also great for naming animals, colours, 2-word phrases (pink cat, yellow cow etc) and prepositions (stamp it under the pig etc).
8.  Gardening tools.  Exploring and developing curiosity is an essential part of development of language and play skills.  If your child prefers being outside to inside, try something like this.
9.  Orchard Toys games.  There are so many of these that are great for language development.  I don't have this particular one, but it looks fun and good for description skills, with a Christmassy theme.
10.  Reusable stickers.  These are something else that I use frequently as a motivator activity but there is also loads of language you can use with them too.  Melissa and Doug do fabulous reusable sticker sets.  If your child isn't into pirates, they do loads more sets on different topics.
And now some for older children…
11.  Nerf gun.  It may not seem like a conventional way to work on language skills but you can find some ideas on how to use it in this post.
 12.  Photo props.  Most older kids in this selfie generation love taking photos of themselves. Use this to talk how they look, pull silly faces, and add captions, thoughts and conversation to the photos with these chalkboard photo props.
13.  Travel Articulate.  This is a great description game and the travel version is very affordable as a stocking filler.
14.  Write and draw your own comics book.  At the time of writing there is a great deal on this one on Amazon – £2:99.  This is great for a child who likes drawing to encourage them to make up their own stories and characters.  I don't have this book but we have others in the series and they are very good at guiding the kids to think about feelings, conversation, setting, character etc. as well as having fun.
15.  MadLibs.  If you are not familiar with Madlibs, you are given a list of things to think of eg an animal, a verb, a colour etc.  Once you've finished them, you use them to fill in the gaps in a passage, often with funny results.  This is the Junior version, but the adult ones may be more appropriate if you have an older junior or secondary aged child.  Do check out the subject matter of each passage before you start to make sure it is appropriate if you are using the adult ones though!
What other good stocking filler ideas do you have to support speech and language skills?  Do share them below, especially if they are bargains, so that we can all benefit!