For me, a critical part of therapy is keeping it fun!  For a child to learn and then generalise any new skill they need to practise, practise, practise.  To help keep them motivated during the practise I like to play games and to stop both the child and myself getting bored, I'm always on the look out for new ones.
Every now and then you will find a child who really likes just looking at cards and saying the target word for you.  However it is more likely that you are going to have to provide an incentive! We call them motivators as the child gets to have a turn in the game after they have done something for you – followed an instruction, said a sound or word etc.  So here is my current Top 10 games to use in therapy.
1   Balancing cactus.
Helen told me about the fab wooden games at "The Works" book shop.  I have quite a few now, but the balancing cactus game has proven popular with all the children I work with.  Younger children just enjoy stacking up the pieces and letting them fall over, older children enjoy finding out how it balances and making different shapes with it.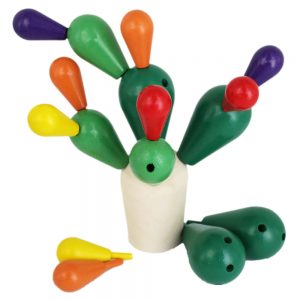 2   Bubbles
Now, I know every paediatric speech therapist has at least one pot of bubbles on them at all times, but this one really did have to go on my list!  Bubbles are fun, they are a great motivator for younger children and you can target vocabulary and concepts with older children.  I am currently using a brand call gazillion bubbles. They are a little more expensive but are stickier and make loads of bubbles!  For ideas of how to use bubbles in therapy, check out our post here.
Gazillion Bubbles 2 Litre Bottle Solution
3   Pigs in Pants – Orchard Toys
This is a lovely matching game, it just seems to capture the imagination of children.  Who's seen a pig wearing pants!  You can see it here and you can read our review here.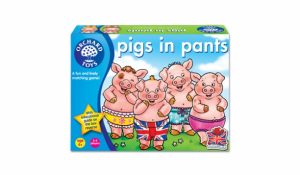 4   Foam Dice
This is a slightly different one!  You can put any picture/ word in the pockets on the dice.  Children seem to love throwing and rolling them to see what they get!  They come in 2 different size from Synergy Learning.
5   A Post Box.
Younger children LOVE post boxes!  It doesn't matter if its a shoe box with a hole cut in it or a toy one from a shop.  There is just something magical about the card/toy disappearing and then being able to open the post box up and find them in side!
6   Memory Game
This is another little gem from "The Works".  Unfortunately I can't find a link on their website, but do go to your local shop and check out their wooden toys and puzzles.  I have found that children from about 7 years old really like the challenge of this game and find it funny that I can never remember where the colours are!  It can take a while to finish the game so don't start it with only 5 minutes left in your sessions!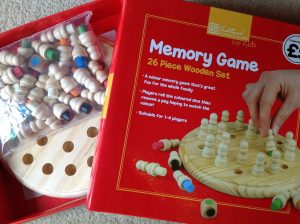 7   The Knot Game
This is another one from "The Works"!  You can see that I'm really enjoying shopping there!  This is a similar idea to dominoes, where to put one of your tiles down it has to match a piece already there.  I have used this with children from around 5 years old.  Interesting with older children (9+) it has provoked some interesting discussion about trying to block the other player and how to play tactically!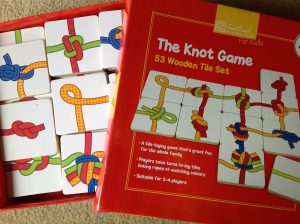 8   Spinners
This one is thanks to Stephen and Anna from their Wordaware Training! I have started using these at the end of Junior aged groups as a 'fun' game to finish with.  In fact, they are still working hard on their vocabulary and semantic skills!  You can use any category or topic as you draw the circles on the board.  It's just more fun with the spinners. TIP – don't worry if you haven't got a magnetic white board – you can stick them anything with blu-tack!
SpinZone® Magnetic Whiteboard Spinners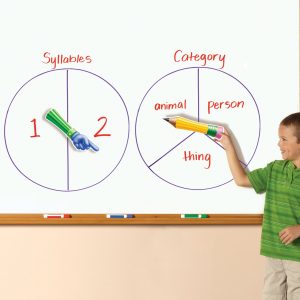 9   Astro Ball
This has really been a hit with some of my children who are harder to engage.  The lights are bright, the motor really shakes the ball and it makes a noise!  The best bit is that you have to press a button to make it work and it's harder for the children to press, so you have to do it which encourages the child to engage with you.  I got mine from Hawkins Bazaar.
10   Stacking Robots
We have talked about these before – you can read that post here.  These are still one of my most used games and children will request it.  It is great for any aged child.  Younger children just stack them up and knock them over.  Older children try and create exciting sculptures!
Tobar Wooden Stacking Robots Game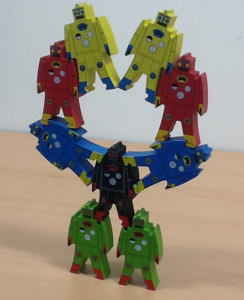 Have you found any new games or toys? Do share and let us know.