"Children need the freedom and time to play.  Play is not a luxury.  It is a necessity." – Kay Redfield Jamison
Play is vital for young children's learning, and the main way in which language skills (and lots of other skills) develop.  Through play, children make sense of the world, learn and use new vocabulary, develop sequencing skills, play with sounds and learn to talk to and co-operate with each other.
I often get asked what toys are best for language development.  The first thing to say is that it doesn't really matter what specific toys you have and you certainly don't need to spend lots of money.
When I am looking for toys to support language development, I work to these principles:-
Flexible toys.  If there is only one thing you can do with a toy, then its possibilities for language are limited.  However, if there are lots of ways to play, there's lots of learning that can be done.  Many toys you get for young children these days have flashing lights, sounds and so on.  These toys have their place, but they are not as flexible as something like a teaset.  You press a button, the toy does its thing – there's not much more you can do!
Simple toys are usually best.  The less the toy does for you, the more imagination you need to use.  There is a reason why children for generations have loved toy trains, toy animals and even a wooden spoon and a saucepan!
Finally, it has to be fun!  This sounds obvious, but sometimes, when looking for "educational" toys, it can be easy to lose sight of whether they are actually enjoyable for kids!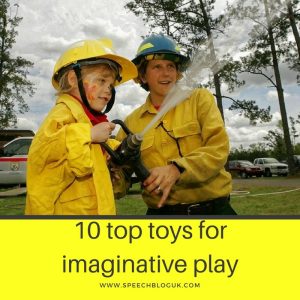 So, using these principles, and in no particular order here are some suggestions of my top 10 toys for imaginative play.  I hope you find them useful with Christmas approaching!  These contain Amazon affiliate links, but the products I've linked to are just examples of the sort of thing I'm talking about.
 Toy animals.  Here are ideas of how to use toy animals in therapy.  There are so many sets of different kinds of animals – here is just one example.
Dressing up clothes – my daughter loves dressing up.  I know some children really don't.  If your child does enjoy it though, it's a great thing to encourage for language development – now you're dressed as a fireman, what would a fireman do and say etc….  You don't need shop-bought dressing up outfits either – mum and dad's clothes will do!  Masks can also be good!
Dolls' house with furniture.  There's so much everyday vocabulary in a dolls' house and your child can explore so many different things which are relevant to their everyday life.  There are so many of these of course!  The houses themselves can be a little pricey, but you can get some fantastic cheap miniature furniture sets like this.
Face paints – some kids love these and others hate them!  If your child likes the feel and look of face paints, try making them into different things – a tiger, a clown, a cat…  What would this person or animal do or say?….
Puppets – you can act out any scenario with puppets.  Start with things that are within your child's own experience, and gradually branch out from there.  These are people puppets but obviously you can get animals, dinosaurs – whatever your child is into!
Dolls – or miniature people or characters of any kind.  Just like the puppets, you can make these do anything – the possibilities are endless.  Straight dolls are great but if your child doesn't like those try Peppa Pig characters or superheroes – any kind of figures will do!
Construction toys – Lego and so on.  Find out how I use Lego to develop language skills here.  
Modelling clay.  Here are some ideas of how to use Play Doh – you can do similar things with any other kind of modelling clay too.
Gardening and kitchen tools.  Kids love to be just like mum and dad and those jobs that we find tedious are fun to them!  If you possibly can, let kids use the adult versions of things (that's what they'll want anyway!) but obviously we need to make sure they are safe too!  Here are some lovely real kids gardening tools as an example.
A blanket and airer.  What kids don't enjoy den building?!… There's all sorts of fun to be had with an old sheet and some chairs or an airer.  Talk to the child about what they are building, what's happening, why they are inside and so on!
If you're starting to think about Christmas shopping (and if not, apologies for mentioning it in October!) check out our post from last year 20 stocking fillers for speech and language development.  You can also find out more about play, why it's important and how to play with your child here.
What have I missed?  What other toys do your kids love to use for imaginative play?