I have just come across this fantastic game called Dobble, and I wanted to let everyone know!  I was in a lovely little games shop in Aldershot  – "The Games Shop" – and the very nice man who runs it showed us this game.  Now you can get Dobble from Amazon
and other online shops, but it's good to support local business – so if you live in Hampshire/ Surrey/ Berkshire, you could go and have a look in "The Games Shop"!!
I love finding new resources and immediately thinking – I could use that for X, Y and Z.  So when I first saw the cards in Dobble, I can see that you can use them for vocabulary, semantic links, visual discrimination and narrative.  You can probably use them for more things, but they were my initial thoughts.
In the lovely tin (great storage and will survive in the boot of my car!), you get 55 cards with 8 symbols on each from a possible of 50 symbols.  There is ALWAYS a matching pair of symbols on any two cards (I don't know how they did that!). The game comes with instructions for a few different ways to play; either aiming to get rid of all of your cards or trying to win them all.  But the underlying aim is to be the fastest to spot the pair of matching symbols.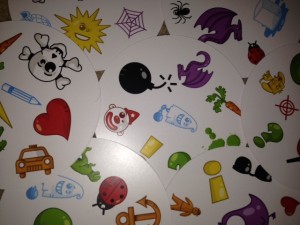 I have played the game with an older child I work with, as the instructions described.  It was interesting to see the extra demand the game placed on word retrieval.  In many instances he had spotted the pair, but either made semantic errors e.g. calling a zebra a horse or used the wrong word.  I would ensure you discussed the vocabulary first; igloo and skull and cross bones may need some explaining first. But the game does provide an interesting vocabulary challenge!  It also produced lots of giggling and some unsubtle cheating, but will definitely be played again next week.
You could play the game but rather than finding the matching pair, you have to describe a semantic link between two items.  It could be that they are the same colour, or linked by a concept e.g. the igloo and ice cubes are both cold, or by function e.g. the key opens the lock.  There may not always be a 'neat' link for every card, but it would certainly challenge everyone's language skills!
You could keep your cards hidden and play a version of 'go fish'. At a basic level "Have you got a zebra?" or you could also work on adjectives "Have you got a stripy zebra?" or you could ask for function or concepts e.g. "Have you got something red?", "Have you got something hot?"
You could use them as story prompts and have to generate a story using a certain number of the symbols. For example, One sunny day, stripy the zebra was walking in a field full of daisies. Over on the lake he saw a pirate ship with a skull and cross bones flag etc.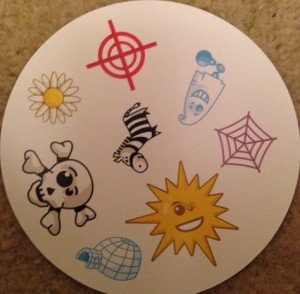 You could play a describing game. Keep the cards hidden and one player has to describe one of the pictures on their card for the other player to guess.  For example "It's a plant, you find them in desert, they are sharp" – a cactus.
I'm sure there is also a way to work in some speech targets as well – maybe some multisyllabic words practise?!
I'm sure I will discover other ways of using these cards, but am thrilled with this find. It can be hard to find good resources for older children and this definitely fits the bill! I have also just seen that there is an app version as well.