As Elizabeth mentioned on Monday, we have been fortunate enough to be sent quite a few things to review and we thought the school Easter holidays might be a good time to share them with you.  Today, I'm going to tell you about the app Keyword Understanding by Aptus Speech and Language Therapy.  This app usually sells for £7.99 but it's currently 50% off for the whole of April, so if you like the sound of it, scoot over to the AppStore and grab a bargain!  It's currently only available for iPad but an iPhone version will be coming out soon.  It's a British app, which I don't think makes any difference really, except that as a British SLT, it's nice to have a British voice on an app for a change!
This is the screen you see when you open the app.  You can choose which of the 3 options you want to use.  In the comprehension check, you can make sure the child knows all of the vocabulary used in the app – you can check object names, colours and size words (big/small) separately.  If you want to miss any out because the child doesn't know them, you can take them out on the Options screen.  On this screen, you can also change the number of questions and whether you want audio only, text only or both.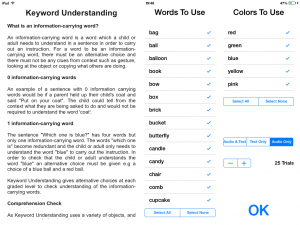 This app works on understanding of key words or information-carrying words.  You can read Elizabeth's post here for more information about understanding key words.  You can choose whether the child needs to follow 2, 3, 4 or 6 key words.  One of the best things about the app is the lovely, clear, colourful photos, which are great for all age-groups.
Above, you can see an example of a 2 key word instruction (touch the yellow comb) and a 3 key word instruction (touch the small red bag).
There is also an option to do temporal directions (so instructions containing before and after).  This is great, as I don't have any other apps which work on this in such a nice, structured way.  You can choose to work on just before, just after or both, and you can choose whether the word should appear in the middle of the sentence (touch the red umbrella before you touch the green hat) or at the beginning of the sentence (before you touch the red umbrella, touch the green hat).  This means that the instructions can get quite complex, so I've used it with quite a wide range of children of different ages and stages.  It's also great for use with adults (in fact, Lorraine who designed it, works with adults, so it was definitely designed with this group in mind too).
At the end, you can see how many instructions the child responded correctly to, and there is going to be an update soon which will tell you how many they got right after repetition as well.  The update will also allow you to turn off the sound effects which go to tell you if the response was correct or not.  This will be good as I did have one child who likes the sound it makes when you get it wrong, so started getting them wrong on purpose!  Also, especially with young children, I don't always want them to be aware that they are making errors, so it will be good to have the option to turn this off.
I initially thought that the lack of any kind of reward in the app would be a problem with small children, but actually I haven't found that to be the case.  Every child I have used it with has been very engaged by the lovely, brightly-coloured pictures, and has quite happily kept on listening and following the instructions.  If they really need a reward at the end, I just use another app or game as a reward.
The voice on the app could be clearer at times as well, but this hasn't actually been a problem for any of the children I've worked with either.
What I love about the app:-
You can change the settings really easily to work on the concepts or vocabulary that is right for each child, which means that you can be really precise in what you are working on (2 key word instructions containing the colours blue, red and yellow, for example).
The photos are lovely and clear and make it suitable for all age-groups.
I love the inclusion of instructions containing before/after, as I find it difficult to keep kids motivated working on these.
Suggestion for the future:-
If it asks you to point to two different items, it always alternates them.  For example, in the picture above, it might ask you to "touch the yellow comb and the green bowtie) but wouldn't repeat the colour or the item.  It would be nice if it was totally random so that the child (or adult) really has to listen carefully.
All in all though, this is a nice little app and I have used it quite a lot in the last few weeks since I've had it.