So, it's that time of year again!  Helen and I have been blogging for 2 years – how time flies.  I am very proud of the blog and us for managing to post very nearly every week (I think we might have missed one or two!).  So to finish off our second year, we thought we would take a look at some of our favourite posts.  Today I am going to review Helen's best posts and later in the week she will review mine!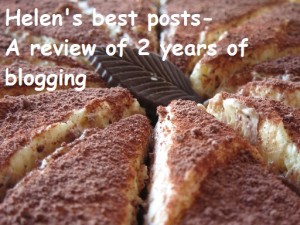 Helen's highest viewed post
Blog stats are a funny thing.  Posts that you spend ages writing and are really pleased with, often don't get that many shares or views, yet posts you rush out can do really well.  This year it is also pleasing to see that our highest hit by a very long way is the blog's front page – meaning people must be searching for us by name!
Anyway, Helen's most viewed post was how to use a ball. This is from a series of posts looking at everyday toys and objects you will have at home and explaining how to use them to meet speech and language targets.
My favourite post of Helen's
It was really quite tricky to pick!  I had my list down to four – but I had to pick one!  So I choose 'How and why to use visual support with children' Visual support is SO important and something we as Speech Therapists spend quite a bit of time talking about! I liked the way Helen explained everything and gave some everyday tips as well.
Helen's favourite post
Helen chose 'classroom observations'. It can seem like a funny thing to do – sit and watch a child in a nursery or school, but Helen explains why it is so useful.
Helen and I are also working on a number of new projects and hopefully we can announce some of them soon.  Keep an eye out for our other anniversary posts this week.