Roar!  I love dinosaurs and so do many of the children I work with!  I was excited when they were included in the Key Stage 1 curriculum – what a great engaging topic!  It never ceases to amaze me, the quantity and detail of information children can retain about dinosaurs, even if it's not all accurate!  Just last week I had a young man insisting that the dinosaur's name was a 'long-o-saurs'!  To be fair, it was a long dinosaur so we went with it and I was impressed at how he made the name using 'saurs' on the end.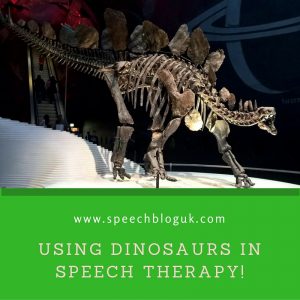 So, if you have a child who is really motivated by dinosaurs, how can you work them into your therapy sessions?  I personally have a selection of dinosaur toys, models and books in my therapy bag!
Syllables.  Dinosaurs have great names!  Triceratops, Allosaurus, Stegasaurus – to name just a few!  Have fun saying the names, slowing them down and counting how many parts or syllables they have.  You can get some great images (with names so you don't have to remember them!) on Google images.
Descriptive Language.  It's not just the dinosaur names that are useful, but also the way they look.  Are they spiky or smooth? Scaly or feathery? Do they live on land or in the water?  Are they herbivores or carnivores?  Are they fierce or friendly?  You can work in great adjectives and descriptive language at an appropriate level for your child.  If your child is finding it hard to think of their own words you could say one and they can decide if it would describe their dinosaur or not.  After a few practises like this, your child should start to remember some of the words you have been using and start using the vocabulary themselves.
Sequencing. If you have some dinosaur toys, you can create simple 3 or 4 step sequences.  For example, dinosaur walks to the water, dinosaur has a drink, dinosaur jumps in the water – splash, splash!  If you can, take a photo at each step and then print them out.  Then each session you can work on sequencing them in the correct order and retelling the story.  When you put the photos down, put them in the wrong order. Encourage your child to describe each picture and then think about what happened first, what happened next and what happened last.  Then you can put the pictures in the correct order together.
Narrative/ Story telling. As an extension of the above task you could encourage your child to make up stories with the dinosaurs.  Now, you do have to be a little careful that these don't end up with T-Rex eating everyone, but you can get some great stories!  Make sure you use the language of beginning, middle and end to help your child structure their story.  Don't worry if the first few times you need to give them ideas and help them structure the story, after a few goes they will start thinking of their own ideas or extend yours.  If you have an older child, you could work on describing the character, what they are like, where they live, what they look like etc to help work in some adjectives and better vocabulary.
Concepts. This might be easier if you have some actual dinosaur toys to look at and feel.  You could teach the concepts of long vs short and tall vs short – these can be tricky and you need to understand the idea of long being horizontal and tall being vertical!  You also have rough vs smooth and all the colour words.
Prepositions. Little dinosaur toys are great for teaching prepositions.  Start with in, on and under.  If you have a dinosaur and a little box that it fits in, your can play hide the dinosaur – Is it 'in' the box? or 'under' the table? Makes sure you show your child what in, on and under are first.  Then ask them to hide the dinosaur.  When they understand these prepositions you can move onto behind, next to and in front.
Positional language – 1st, 2nd, 3rd.  If you have enough dinosaurs to make a little row, you could ask your child 'who is first' in the line?  Always encourage them to scan from left to right as you do when you read and make sure the dinosaurs are facing in the right direction as well!
Play.  You can demonstrate simple play sequences for younger children e.g. dinosaur wakes up, eats breakfast, goes for a walk etc.  If you are working with a few children or your child has a sibling who likes dinosaurs, you can also support turn taking and sharing.  Again, we don't want play to end up being lots of fights, dinosaurs had friends too!
How else do you use dinosaurs in therapy or play?