I work with children between the ages of 2 and 11 years old and we work on a range of targets.  I may see an eleven year old and work on higher level language skills and inferencing, my next child may need to practise using the k sound and then I might be working on attention and vocalising.  No day is the same and I love it!  It does however mean that the boot of my car is my mobile clinic cupboard and I need lots of different games and toys.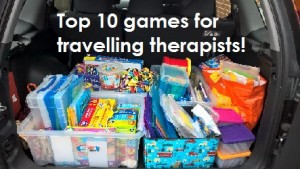 Yes, that picture is the boot of my car! So today I am going to talk about my current favourite games.  As speech therapists we use many specific speech and language resources but we also use lots of everyday toys and games as motivators during therapy.  This does change when I find something new, but some games are always requested by children and I have bought multiple copies over the years!  Pop-up pirate is always popular! Please note this post contains Amazon affiliate links.  So in no particular order:-
1. Stacking Robots

These are so useful as a motivator and are great for all ages.  With younger children we might just stack them up or play with them and older children can make great sculptures with them!  You can read our review here
2. Dobble

This is a great language game.  I have the higher level game, but there is also an easier version for younger children.  It also comes in a nice compact tin which is great to keep the cards together in my car.  You can read our full review here.
3. Snakes and Ladders.

I currently use an Orchard Toys game board but there are many great ones out there.  I keep mine in a plastic pockets to keep all the pieces together in the car!
4. Hanging Monkeys

I have an original set from the Early Learning Centre before they changed the tree! The new tree only lets you hang about 4 monkeys on before it fall off where as the old one will take loads!  They can be harder to come by – I got my last one from a charity shop.
5. Post Box.

It doesn't matter if it's shop bought or made out of a shoe box.  A post box is great for younger children.  I think its because the cards 'disappear' and then you can open the door/ lid and find them.  I also remember working with one young man who just enjoyed sitting on the post box!
6. Buckaroo

Another great children's game to use as a motivator.  It also leads to some interesting conversations and vocabulary talking about the game pieces – as you have dynamite and lanterns in there!
7. Connect four.

There are so many versions of this game now! I haven't been brave enough to try the new one where you have to catapult the pieces in, but I'm sure the children would love it!  I just have a basic one.  With younger children we race to see who can get their counters to the top first and with older children you can play the game as intended.  I have a number of children who want to have all the turns and just want to put the counters in and find that very motivating!
8. Flying hats

Thank you to Helen for finding this one!  It is one for older children as it can be a little fiddly, but is really fun and we always end up catapulting the hats everywhere!
9. Bubbles

Whatever new games I find, I will always have a pot of bubbles in the car and probably in my handbag too!  I currently use the gazillion bubbles brand. It is a little more expensive but makes great bubbles and even children with reduced lip rounding and air flow can still achieve bubbles with it.  Bubbles aren't just for younger children – I have a number of Junior School aged children who ask for bubbles!
10. Rockin Robot

This was another of Helen's finds from the Early Learning Centre.  You can use it for many different language and speech targets and most children love to see it exploded.  I did have one young lady who didn't like it exploding, but still loved following instructions to build it and then just took it apart herself!  You can read Helen's review here.
These are just a few of the games in my car!  What else do you like to use?