This is the 5th part in our series about understanding your child's speech and language therapy report.  If you have missed them, there is an overview, a post about attention and listening, one about comprehension and one about expression.
This post is going to look at speech sounds sometimes called phonology or articulation.  This section of the report will talk about how clear your child's speech is, if there are sounds they are finding hard and it may comment on if your child's speech is appropriate for their age.  You may well find lots of terminology and jargon in this section; consonants, vowels, CV/VC, blending, sequencing and maybe even some funny squiggles – the list goes on!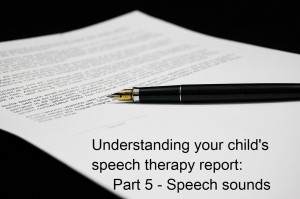 Although you may well know a 2 year old, who is talking in sentences and whose speech is perfectly clear, you need to remember this is an exception to the rule and all children develop in their own time.  In regards to speech sound development, we expect certain sounds to be used correctly by certain ages.  There is a great chart on mommyspeechtherapy which shows this development.  So, for example a 4 year old finding /th/ tricky and saying 'fumb' instead of 'thumb' is an age appropriate error, and the therapist may well not be too worried about it.  However if a 4 year old is missing lots of consonants and using /d/ most of the time instead – this would be of more concern and not age appropriate.
The report may also talk about a delay vs. a disorder.  A delay in terms of speech sounds means following the normal developmental pattern, just doing it a little later than expected.  There are expected errors for some of the harder sounds, for example the /c.k/ sound normally goes to a /t/ so cat becomes tat.  So if a 4 year old is still making this error, it may say that they have a mild speech delay – they are making the expected error, just a little later than normal.  However a disorder is where the sounds are not being learnt in the expected order, the child has few sounds or unusual errors are being made.
The report may comment on the length of words and which structures your child can or can't say yet.  For example some children find it hard to say sounds at the ends of words or in the middle.  The report may also talk about consonants (C) and vowels (V) and whether your child can put them together to make a word (blending). The child may be able to copy a /b/ and an /ee/, but they may not be able to put them together to make the word bee yet.  It may also talk about longer words and use terms like multisyllabic or polysyllabic.  This refers to longer words like helicopter or hospital.  Come children can use all their sounds in short words, but struggle to use them in longer words.
This is also where you might see some funny squiggles – this is called transcription.  Therapists use the International Phonetic Alphabet to write down what we say.  This is because English has lots of funny spellings like giraffe, that doesn't start with a /g/ and on average 18 vowels sound with only 5 letters to represent them.
Another area that may be mentioned is phonological awareness.  This is the child's ability to listen to words and understand that a word is made up of sounds. If a child can't hear what sounds are in the word, they won't know if they are saying it correctly.  Some children may have a difficulty hearing sounds at the ends of words, for example hearing the difference between cat and cap.
There may also be some mention about the child's ability to move their tongue, lips and jaw.  This is sometimes called oral-motor control.  Some children find it difficult to move their tongues and lips when they want to.  However this does not necessarily mean they will have difficulties with their speech though!  It may also mention how fast and accurately they can make sounds.  Some children can make all the sounds, but their speech sounds slushy when they talk in sentences as their motor control is reduced.
There are a few other areas that maybe mentioned under speech, or may have their own section, but I'm going to talk about them here!
Dysfluency/fluency/ stammering/ stuttering.  You can read more about this in one or our early posts here.  The report may mention words like repetitions – this means how many times the word or sound is repeated. Blocks – this is where the person gets stuck and the word is blocked and can't come out. Secondary behaviours – this is where something else happens when the person is dysfluent and can range from eye blinks to clenched fists. You can find more information on the Michael Palin website or the ………
The report might also mention your child's voice.  This can refer to how loudly or quietly they talk, if their voice is high pitched, if they speak very fast or very slow or other qualities the therapist might have noticed.  Children who shout a lot can have a hoarse voice, like they have a sore throat, but it can be due to vocal nodules.
If you are unsure on anything written in your child's report, always ask your therapist.  But hopefully this might explain some of the terminology we use.
If you want to find out more about speech sounds, click on the link at the bottom of this post for a free e-book.  Also, check out our courses.
You can read the next part (which focusses on social skills) here.